Miranda (2002). Directed by Marc Munden. Written by Rob Young. Starring John Simm, Christina Ricci, John Hurt, Kyle MacLachlan and Julian Rhind-Tutt.

This includes 8 caps of 400 pixels by 170 or so pixels and an mp3 of John Simm singing and playing guitar.


Oh, quirky British romantic comedies. You somehow often manage to find a place in my heart. I'll preface this by saying that I am rather enamoured of A Life Less Ordinary, the Danny Boyle film with Ewan McGregor and Cameron Diaz - that says something about my tastes, I think, and explains why I liked Miranda despite (and perhaps even because of) its flaws.

Miranda is about a woman - a femme fatale - Miranda (Christina Ricci), who Frank, a dull-living librarian (John Simm) falls in love with when she spends the week visiting his place of work. He asks her out and she accepts, and before he knows it, he's plunged into a world of mystery and intrigue, where it turns out Miranda is not what she seems. One minute she's beside him with her curly brown hair and brown eyes, the next she's with some businessman with her straight black hair and blue eyes.

Miranda is not a great film. It's sweet enough, but misses the mark in quite a lot of ways. It's one of those films that make you wonder how they got such a fantastic cast - the plot doesn't really seem up to scratch, there's nothing particularly remarkable about it. And it's only the actors that make it worth watching. The story tries to do too much at once and ends up being very superficial. But, I enjoyed it, and there were some lines that made me laugh out loud. The narrative is pulled along by John Simm's uncanny ability to be thoroughly charming and Christina Ricci's charisma as an actress.

One of the types of film that usually makes me grin is the one where the characters speak in riddles - and Miranda certainly belongs in this category. A lot of the dialogue is far from naturalistic, with characters speaking to each other, but never really saying anything. But, as I said, there are some wonderful lines, such as Frank's "I always buy stuff with preservatives in it - it makes you live longer," and his later, "there are times when love itself is powerless - at those times, I prefer to use a breadboard."

The thing about Frank is that, apart from Daniel in Sex Traffic, he's probably John's sweetest role. The other thing is that, apart from Caligula in Nero, he's also arguably his creepiest. If Frank were not played so deftly by John, he could come across as a disturbing stalker-type. As it is, he comes off as an endearing stalker-type. The rapidity with which Frank falls in love with Miranda is intense. And he goes to great lengths to follow her. He is contrasted well with Kyle MacLachlan's uber-creepy Nailor, of course, so he's always going to seem relatively tame, but I maintain that scary vibes come from unassuming Frank, and it's just as well he's played by someone who knows the fine art of subtlety.

One more thing about Frank is that his choice of clothing is hideous and he should seriously reconsider his hairstyle.

I really enjoy that the film is narrated, and that it's narrated consistently. All too often, indie-style films start with strong narration that gets you hooked and then it fades out, to be overtaken by plot, only to reappear at inappropriate moments (the John Simm starring Human Traffic is an example of this, funnily enough.) One problem with the narration, however, is that Miranda is told from Frank's point of view, even though we see scenes with his voice-over that he couldn't possibly know about. A lot of films cheat this way, of course - even to the point where we have dead characters narrating, but as it goes against the unwritten rules of writing, it does tend to annoy me. This annoyance is counterbalanced by the fact it's John narrating and he has a lovely voice.

I liked the performances John Hurt and Julian Rhind-Tutt gave - especially Julian, who I've come to like a lot in Green Wing, as well as having liked him in Clocking Off and Black Books. His character, Rod, is amusing.

All in all, as a film, I thought it had problems. But since I didn't come into it with high expectations other than knowing John always gives a fine performance, I didn't much care.

For your downloady goodness - An mp3 of John Simm with "Miranda".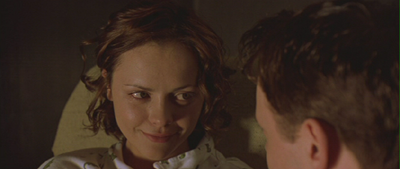 This is the Miranda Frank knows.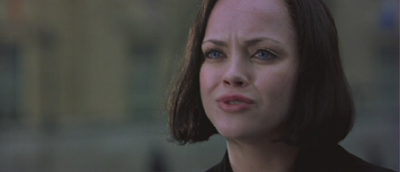 This is the other Miranda.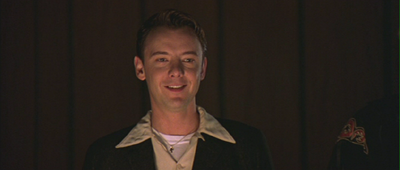 And this is Frank.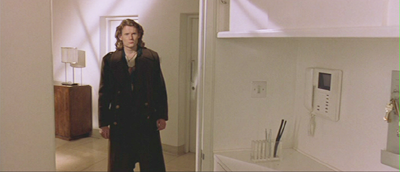 This is Rod.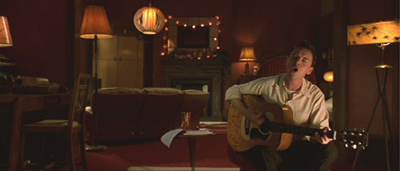 "Hooooow do you solve a problem like Miranda?"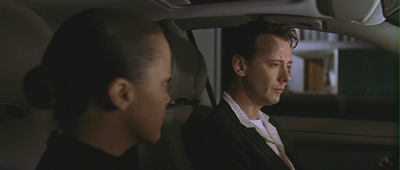 Why yes, yes, there is an infamous John Simm crying scene.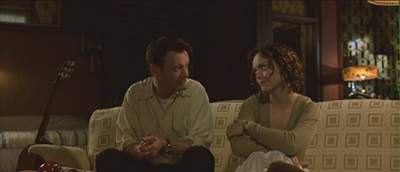 They're actually quite sweet together.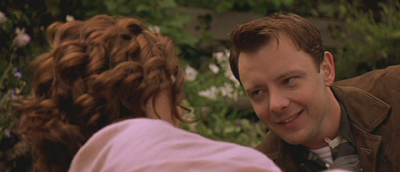 Awww.

Well, that was fun.