Can you marry fictional characters?


Dobbin! Of course!

I kind of thought for a while that I had fallen asleep and was dreaming him, because he's just that fantastic. He's all loyal and loving and smart and decent. And when he gave his speech to Amelia about having loved for these ten years, I genuinely made a high-pitched sound that would attract all neighbouring dogs. Yes, he was frustrating to a point - you did want to reach in and tell him to be a man, but oh, how I adored him anyway.

I can't believe I went this long without seeing Phil as Dobbin. I may never be able to look at him again and not think "HE HAS A HEART OF GOLD". But, of course, I will, because he's going to continue playing ruffians and bastards and I adore this about him. But his performance as Dobbin was so, so good. I just --- oh man. Phil. He wins my heart. Whether he's telling a bunch of slags he's going to kick in their doors, or he's staring wistfully at the woman he loves. I believe it, every time. And I was surprised, I have to admit. I wasn't entirely sure he could pull off the straight-forward kindness and overall cuteness of Dobbin, but he proved me so very, very wrong. One thing I noticed was how awkward he could be in one moment and how elegant the next - this is something I also saw with his performance as Hobbs. Phil has this way of moving which is extraordinarily graceful and not what you'd expect from a man of his build.

As an entire production, it was well done. The acting really was superb, and not only from Phil. Natasha Little was positively evil as Becky Sharp. She gave the spiteful character a great deal of depth. I wholeheartedly loathed her. Nathaniel Parker, on the other hand, made the rogue Rawdon likeable. Tom Ward, who I had only ever seen in Silent Witness, was similarly good at showing the multiple facets of a despicable character. Jeremy Swift gets major points for his delivery of the pompous Jos. Frances Grey was a lovely Amelia, even though Amelia drove me insane. Then there were smaller performances which were enjoyable - for instance, David Bradley was wonderfully horrible, as he usually is. Oh, oh, and Miriam Margolyes. She's brilliant.

Overall, I was impressed with the production values. I'm not sure they did a very good job of aging the characters, but there were other cues telling the audience that ten years had gone by. There was some camerawork which annoyed me - most notably in the scene where John Osbourne has dinner with George Osbourne Jr and laments over the loss of his son. It was done in extreme close-up with tight framing and jittery hand-held, which I think in most productions isn't too worrisome, but feels out of place for a costume drama. Actually, quite a lot of the camerawork was deliberately deviant from that which you would expect from a costume drama, and there were times this worked better than others. Murray Gold's score often sounded heavy-handed and over the top. There were moments I loved it, and there were scenes where I'd have preferred something quite different. But then there were the lovely sets and absolutely fantastic costumes to offset most of my quibbles.

In conclusion - Phil again.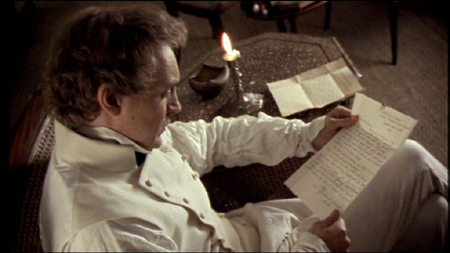 Best. Hair. Ever. I confess, I clapped at the screen when I first saw it.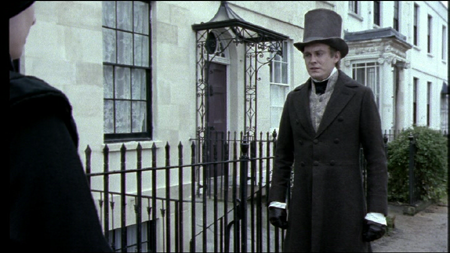 Costume! Long coat and dorky hat - for the absolute win.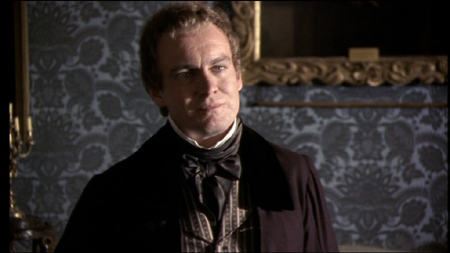 EEEEEEEE!