And we're back with Clocking Off.

There are 120 caps in this post, each 720 pixels by 416 pixels.

Featured actors are Philip Glenister and Lesley Sharp. This is called "Trudy's Story", but I'd be inclined to call it "Trudy and Mack's Story". I do discuss a lot of the plot in this recap. It seems inescapable.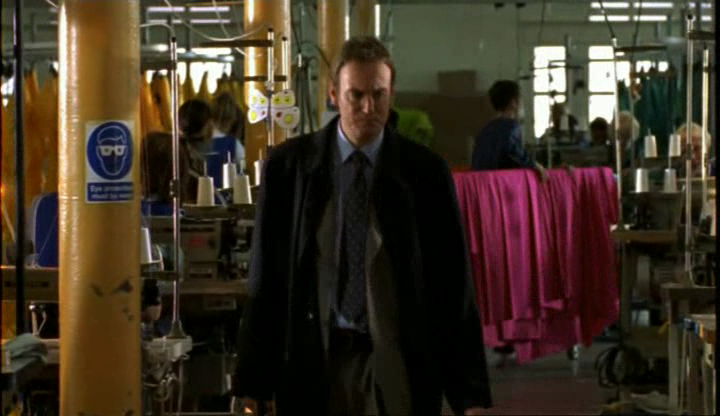 We begin with Mack wearing a long coat. As those of you who tuned in for my cap and captioning for State of Play [Warning: Cap Intensive Post] may remember, I have a thing for long coats.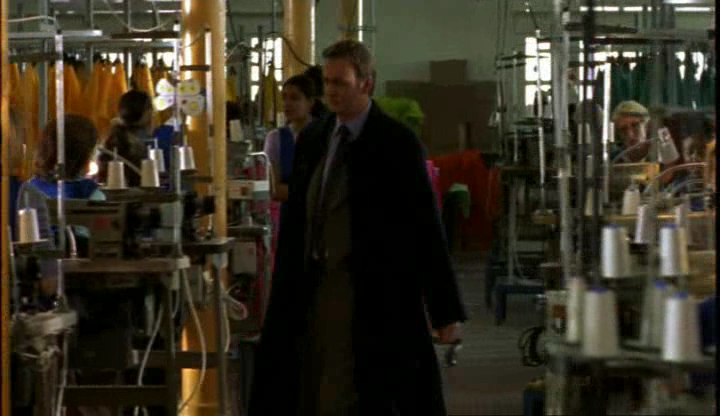 Oh my yes.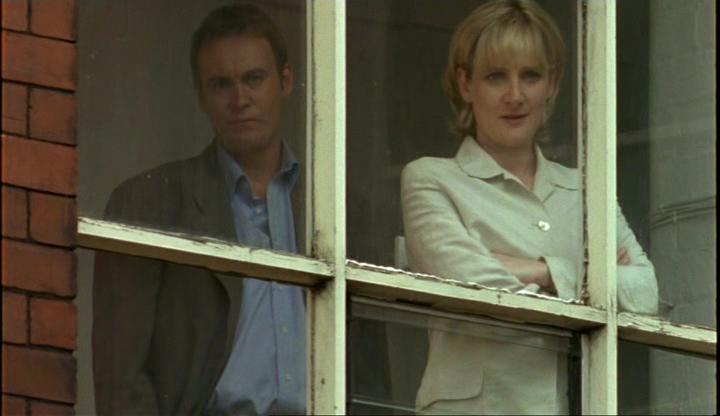 It's Mack's birthday and the company are hosting a 'surprise' birthday party for him.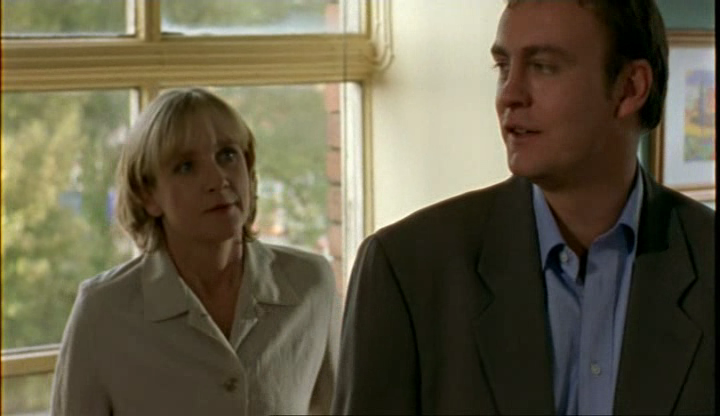 He's not all that impressed with their organisation skills, to be honest.

"Show us your surprised face.":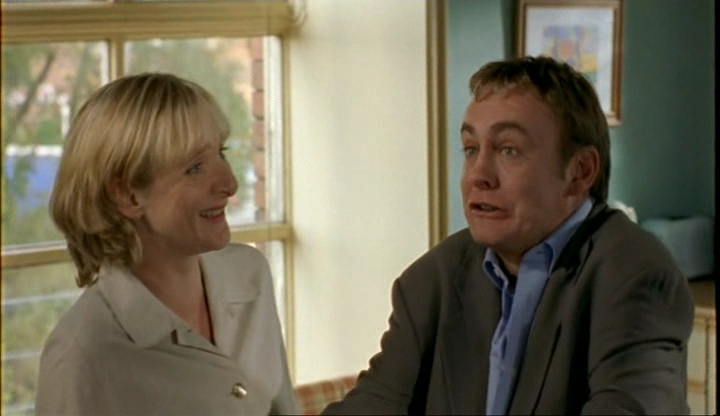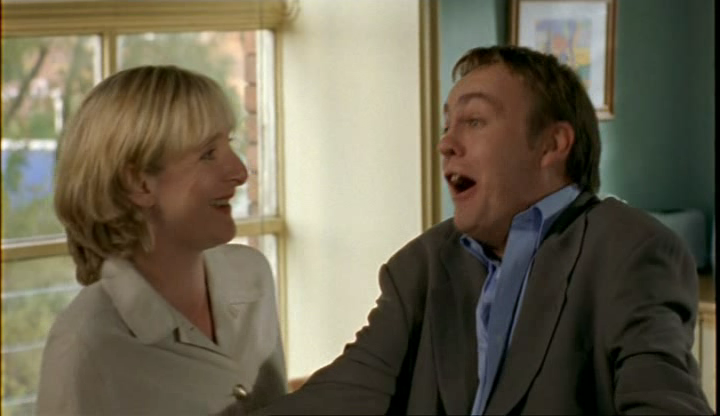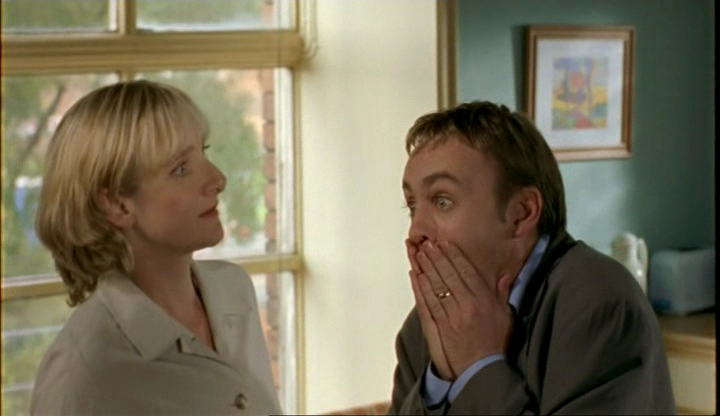 I'm fairly sure Phil would be inclined to stick me in a freezer for saying it to his face, but he's seriously cute.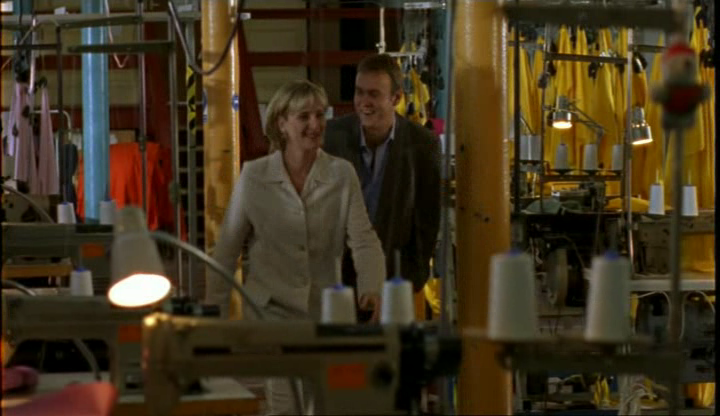 Trudy and Mack go towards the party.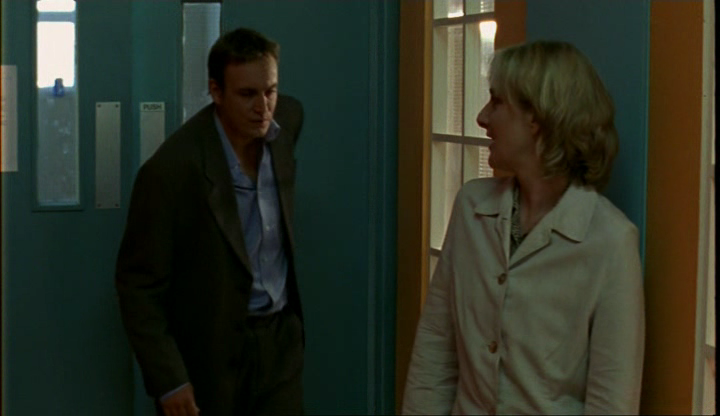 They keep up the charade of Mack not knowing.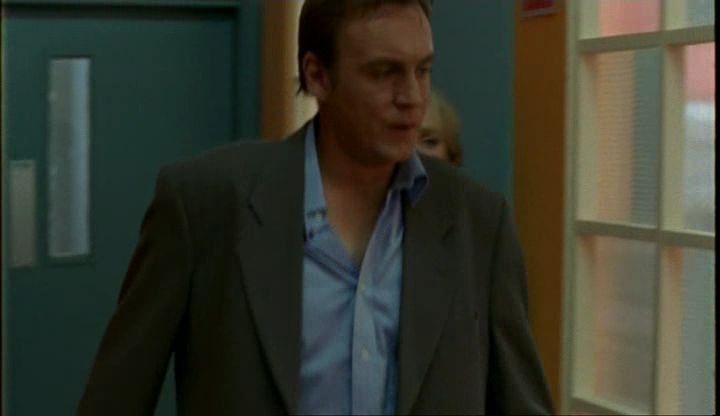 I don't have much to say about this one, except that it sets a trend of Mack having an open-necked shirt throughout the episode. This is another one of those things I like. On the very top of the list, in fact.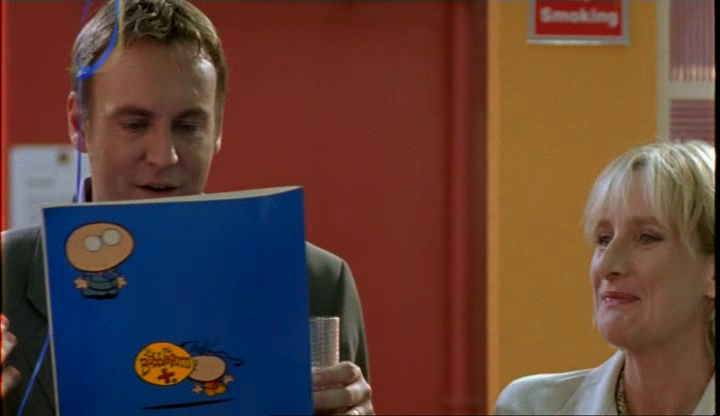 Mack's employees get him a card with what I can only imagine are portraits of him.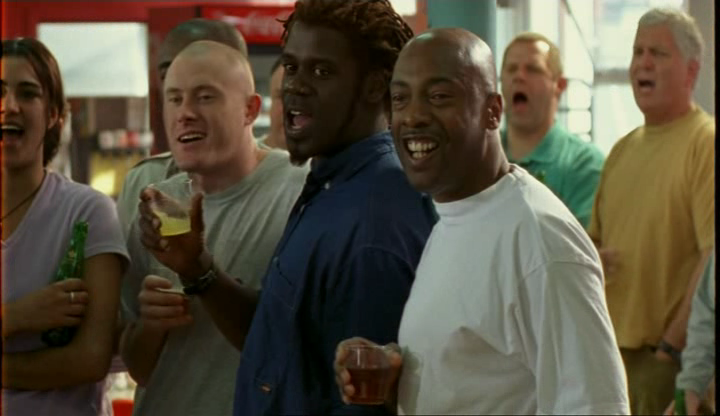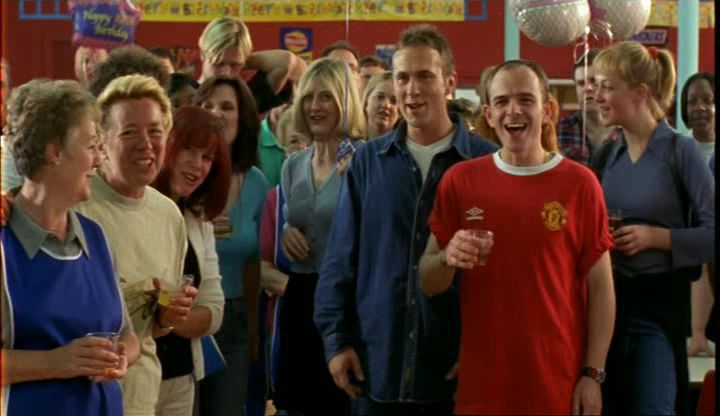 They are pleased with his response.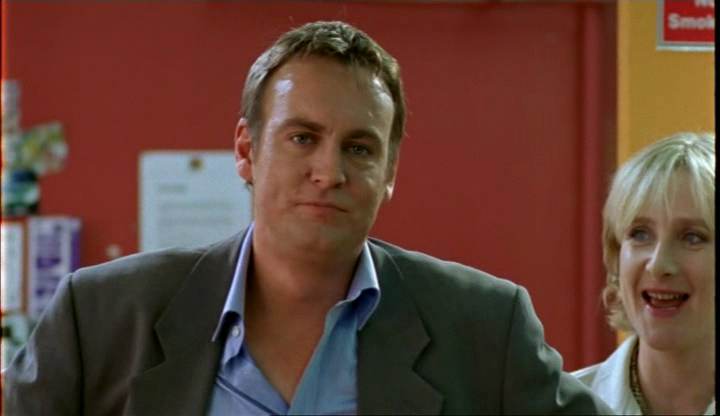 So am I. This is one of my favourite shots taken during these posts so far. It's just... mmm, it's a happy place.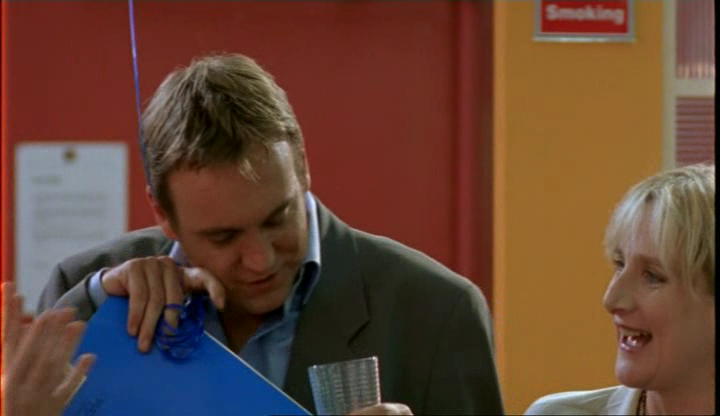 Mack gets kissed on the cheek by Yvonne, who we saw in episode three. And he wipes it off... awww. "Girl germs!"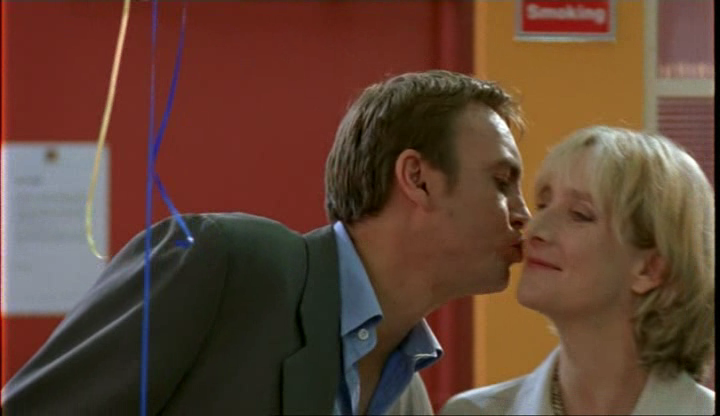 But then he leans over and gives Trudy a peck on the cheek, and it's such a sweet moment.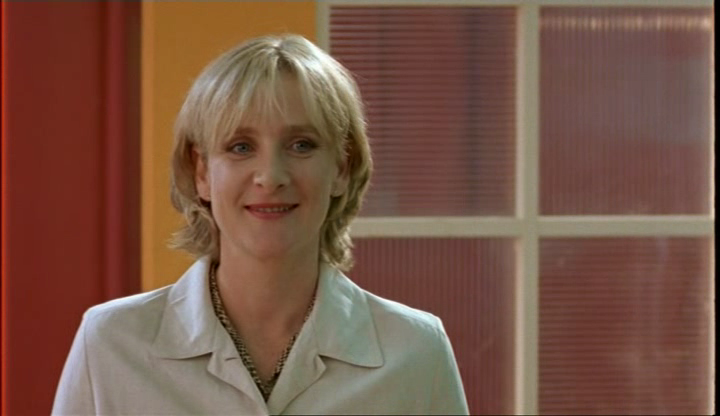 Trudy continues to be made of awesome. And I do believe she feels for Mack much as I do.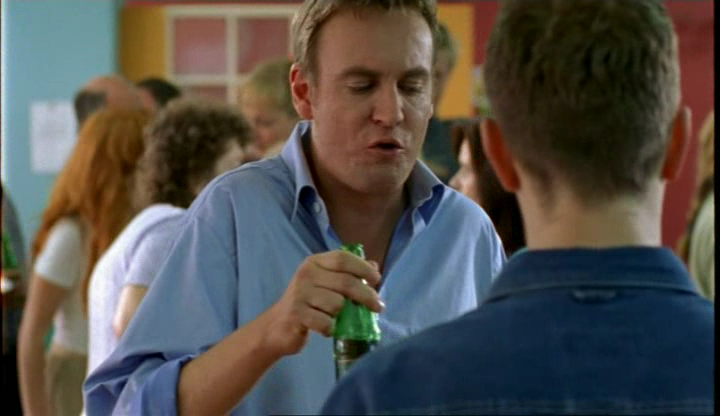 At the party, Mack's having a great (very boring) discussion with Martin, who we'll remember from episode one (the one with John "me and Phil are OTP" Simm.)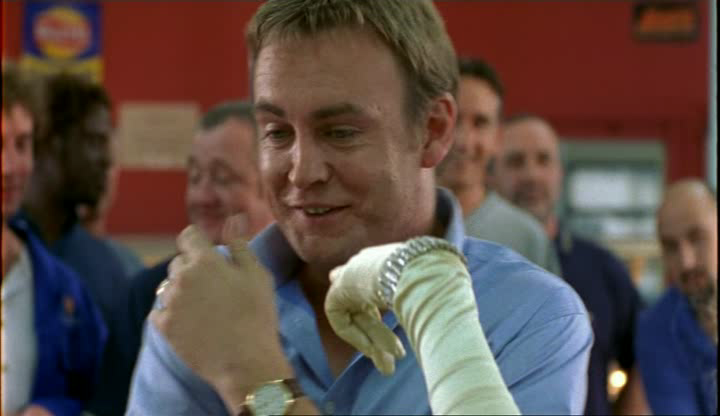 When it is revealed they've hired Mack a stripper.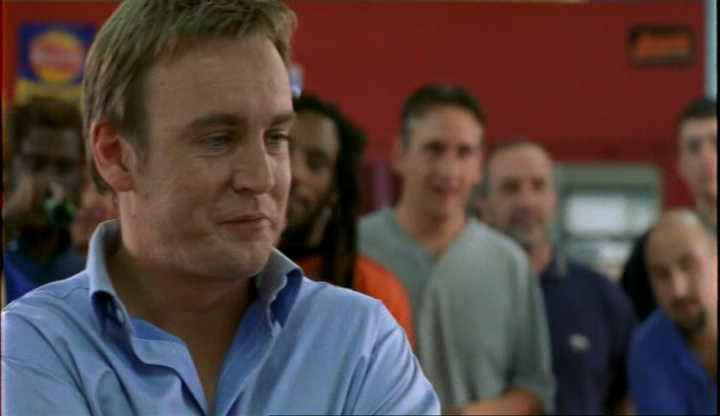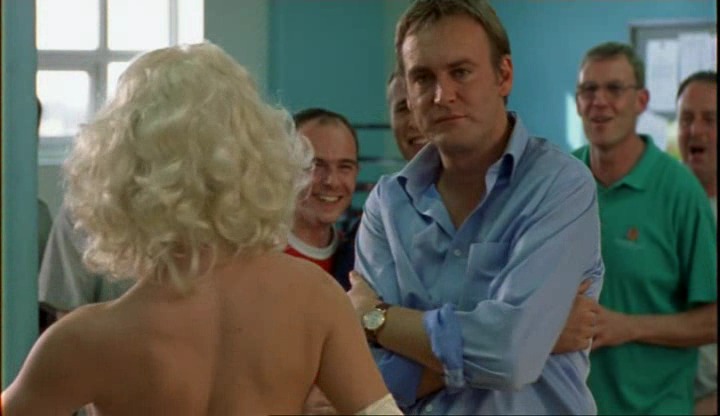 Mack's reaction to this is amusing.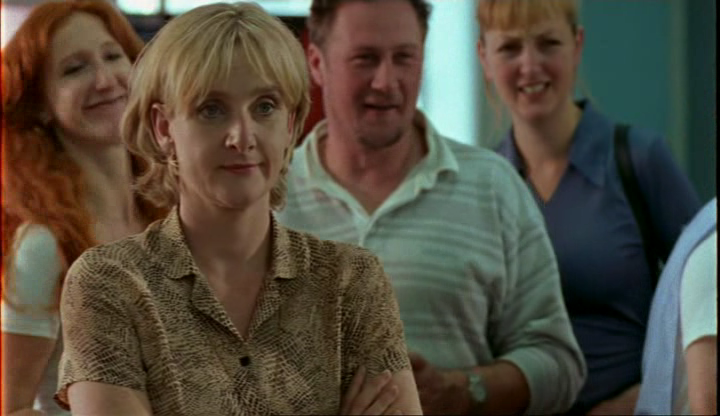 Almost as amusing as Trudy's.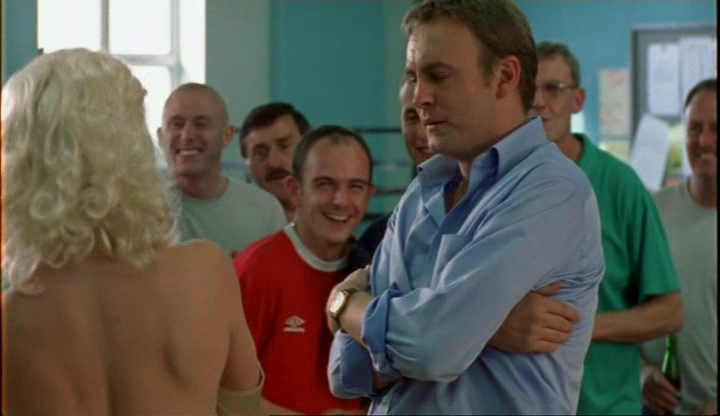 He is so uncomfortable, and mildly disgusted.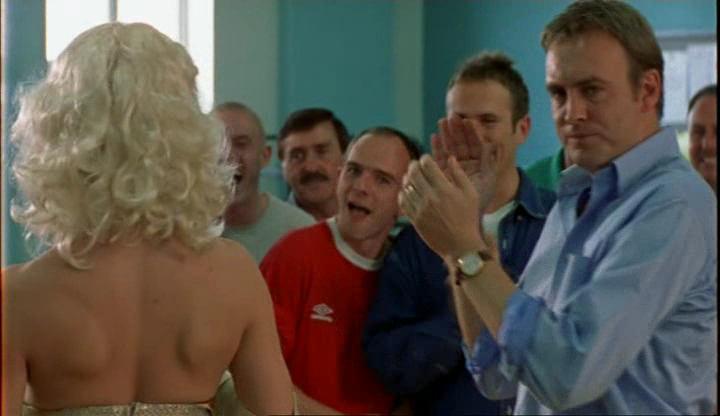 And he looks over at Trudy as if asking her to save him.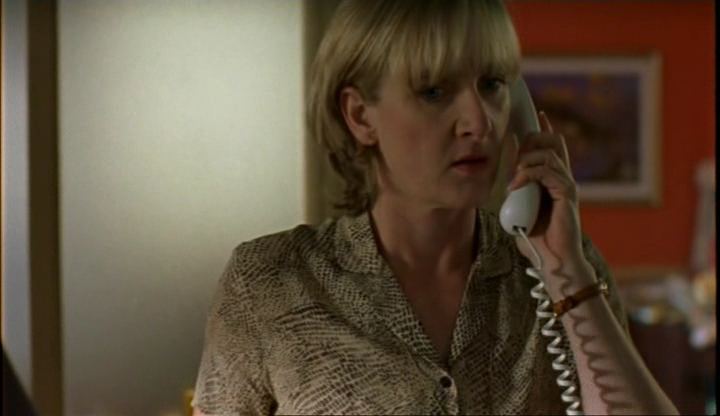 Trudy does not come to the rescue. She gets a phonecall. Sadly, her father has died.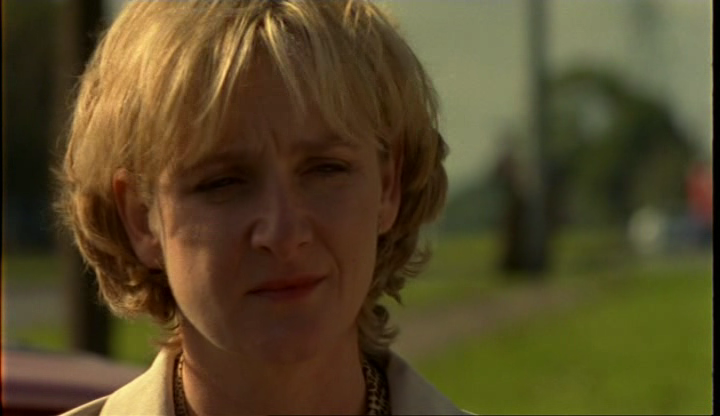 Trudy was close with her father.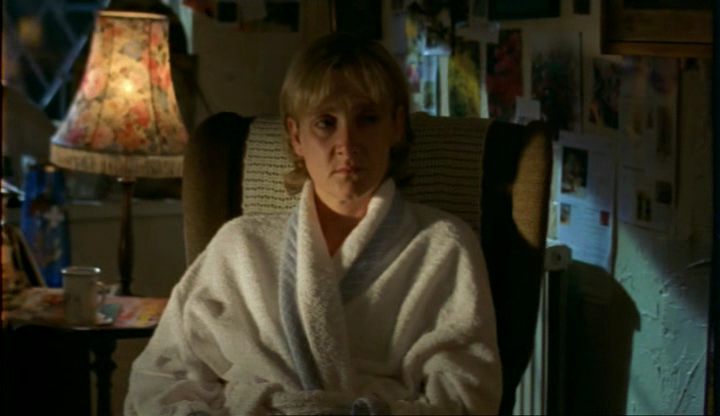 She spends a while wallowing in self-pity (as you do.)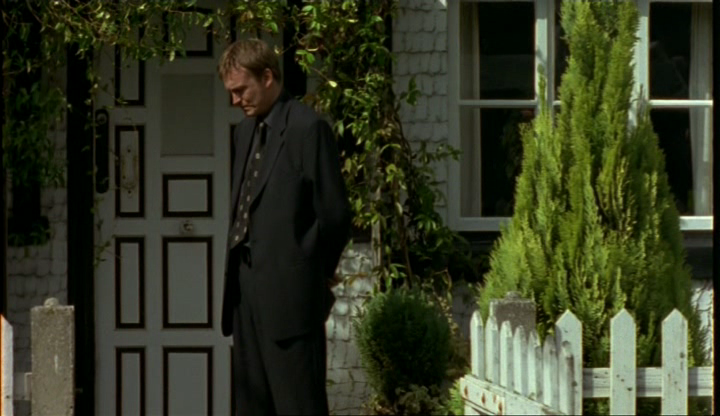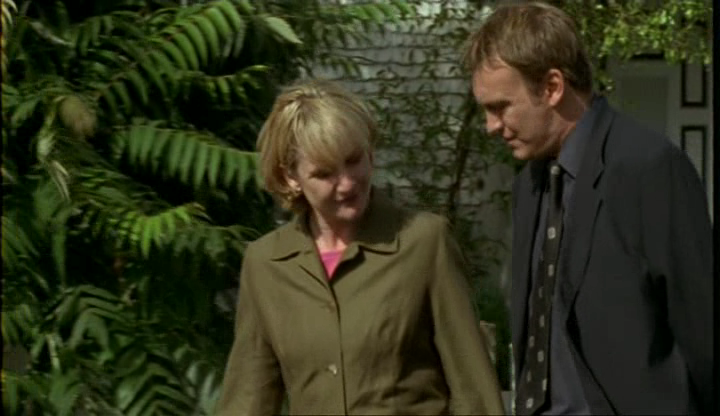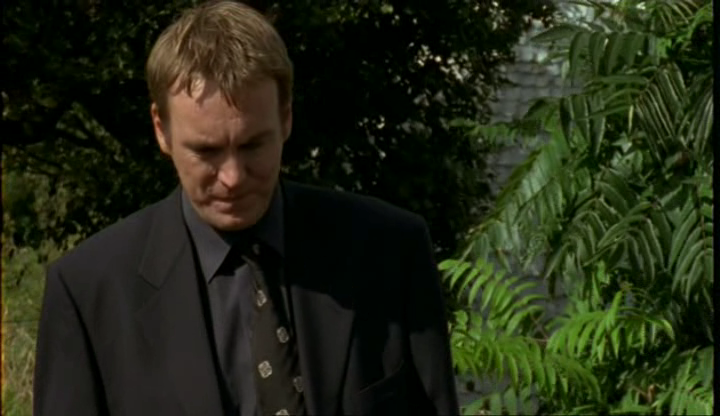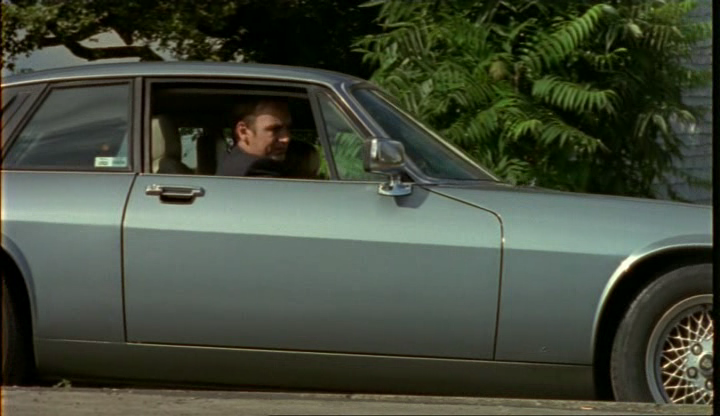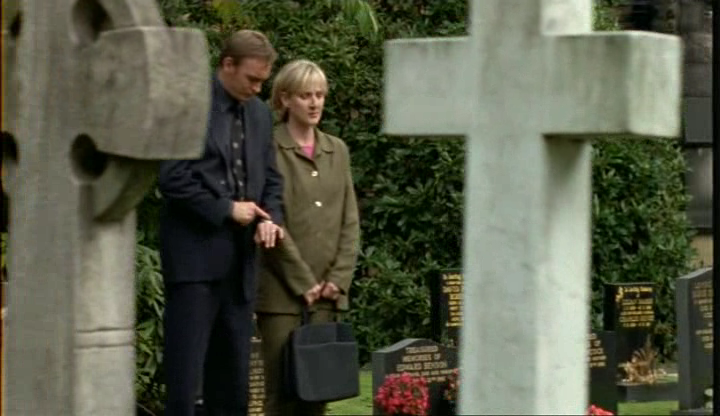 And because he is a sweetheart...



Mack attends the funeral with Trudy.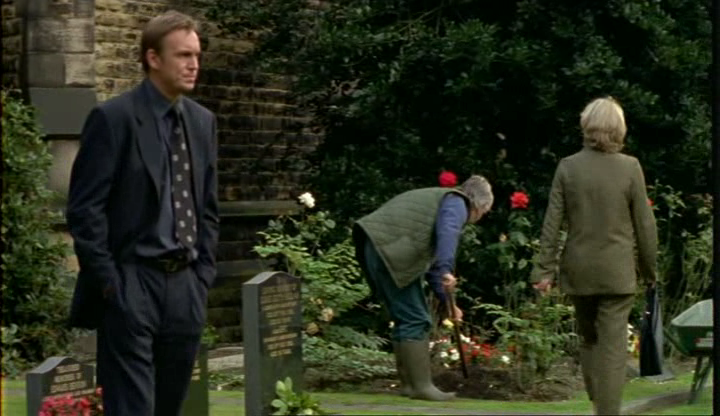 Unfortunately, they go to the wrong place.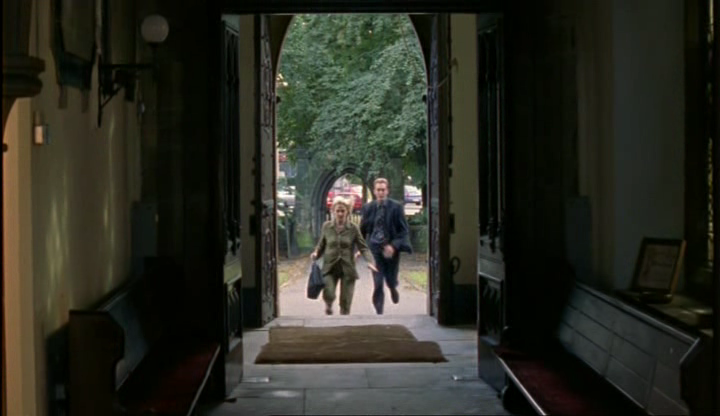 And need to mad-dash to the right one.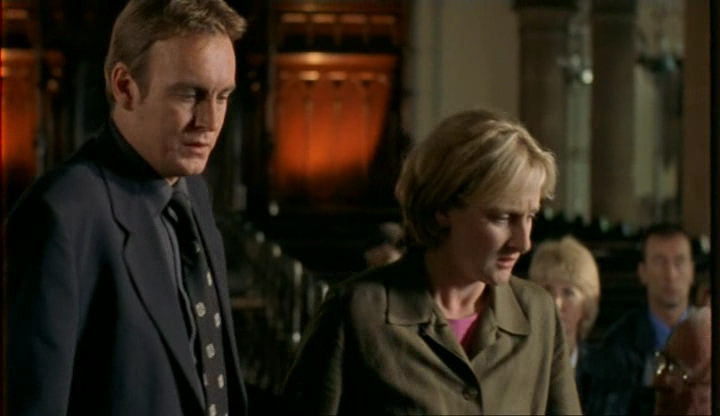 Wherein they look uncomfortable and feel bad.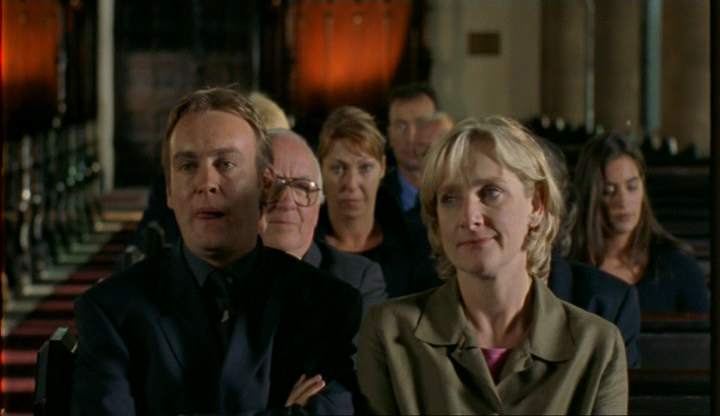 Tongue!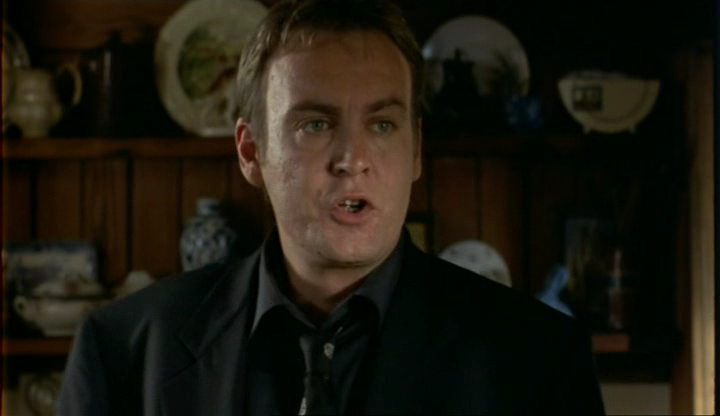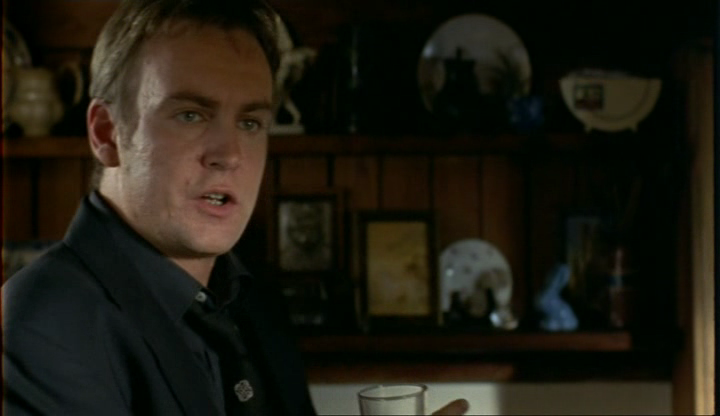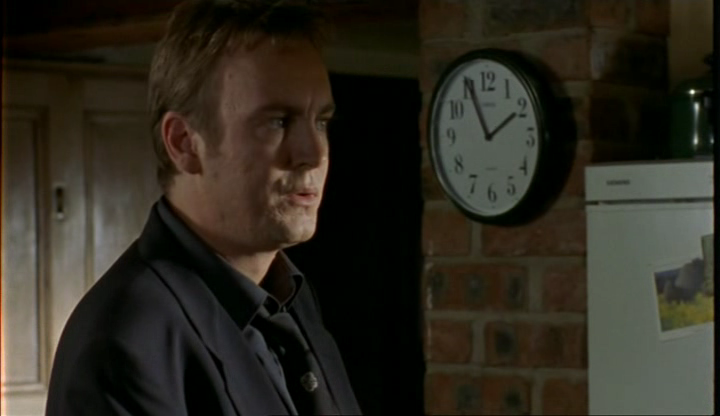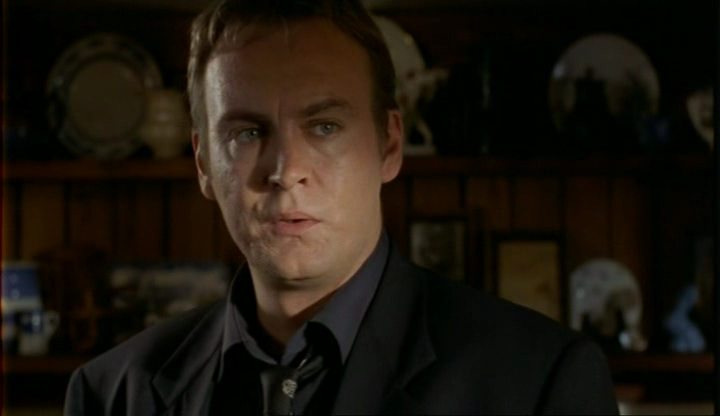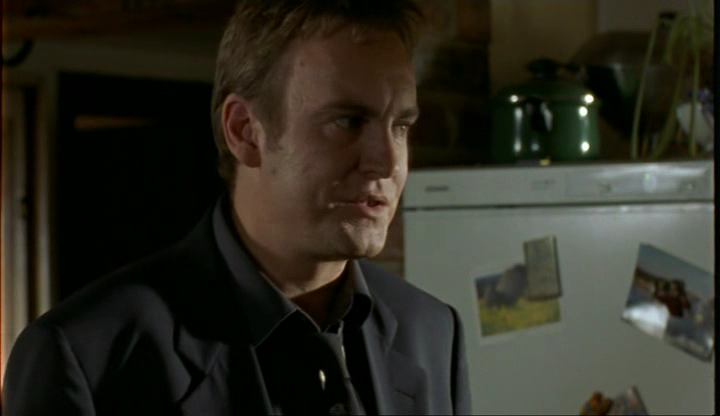 And then there's the scene where Mack defends Trudy to her sister and brother-in-law, who are acting like jerks.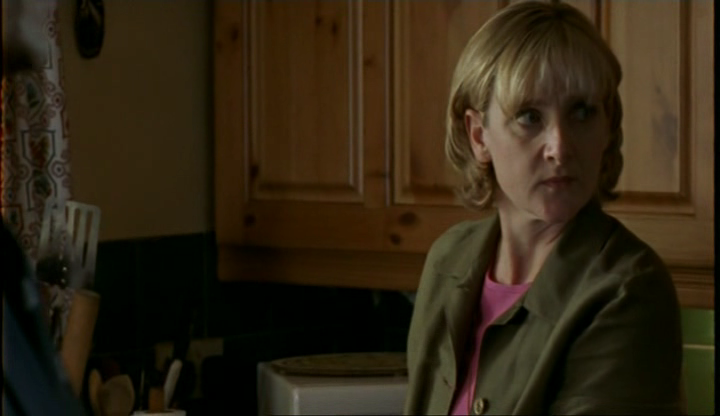 Poor Trudy.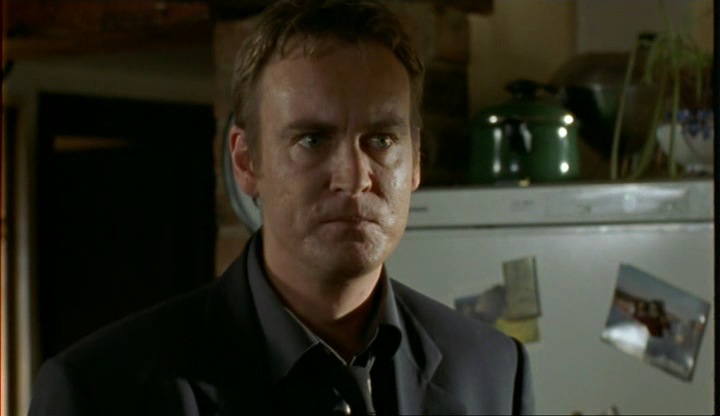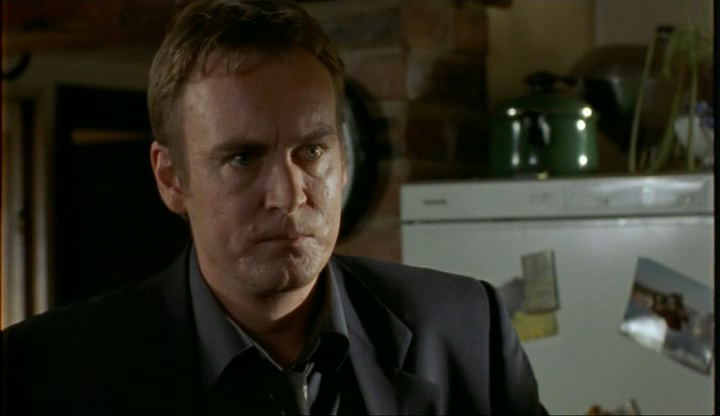 It's okay, because Mack will cut anyone who hurts you.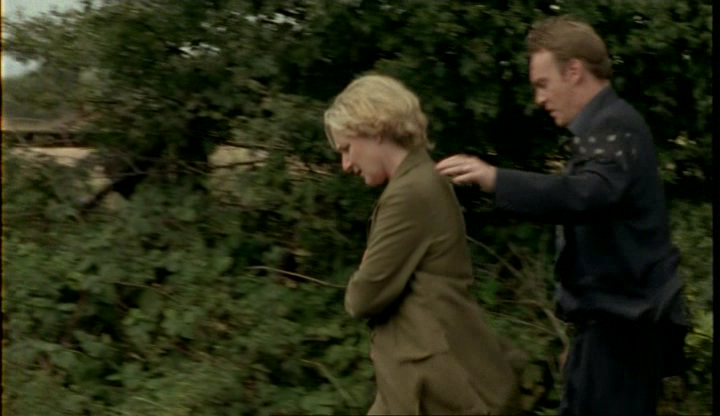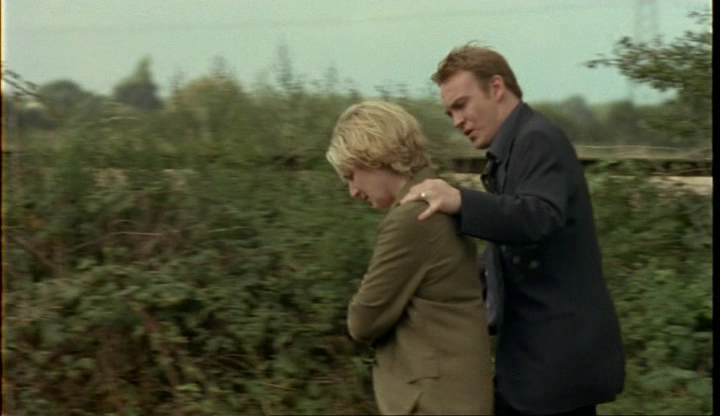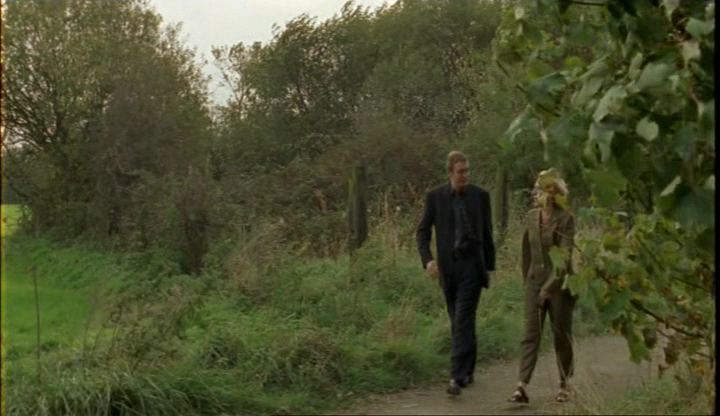 He will also be there in consolation.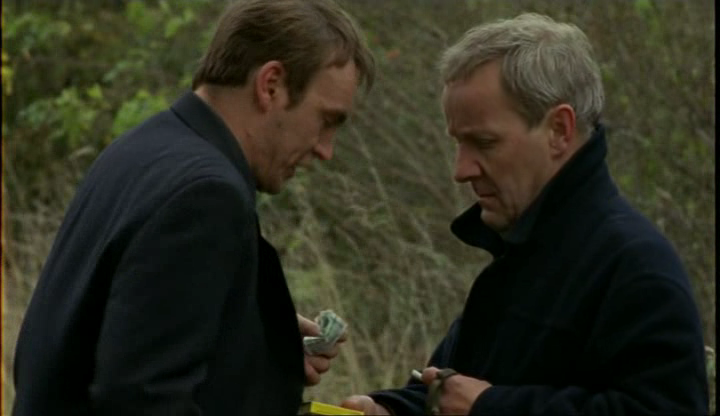 And buy you cigarettes, for a ludicrously large sum of money.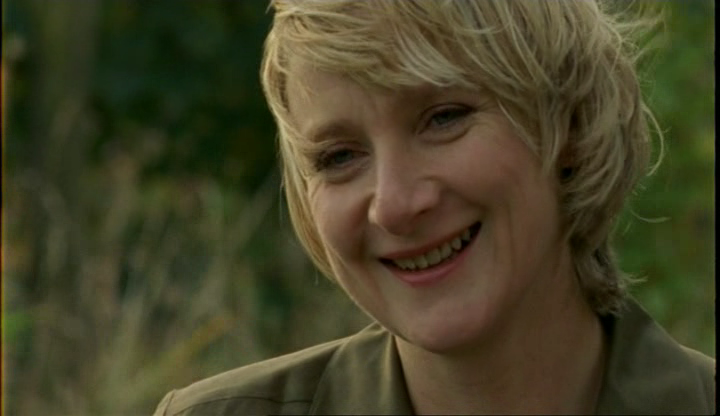 This, of course, pleases Trudy.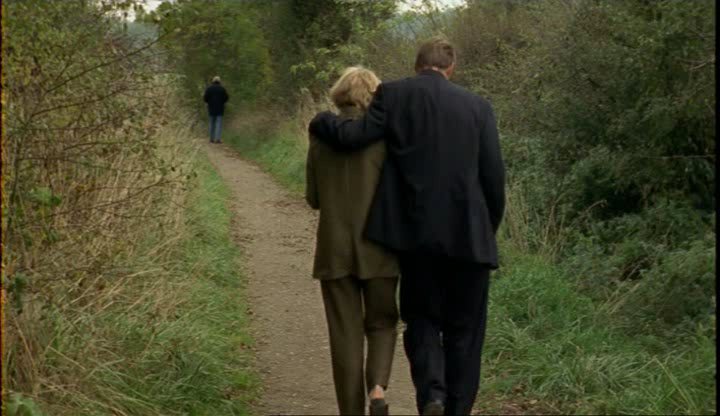 And then they are cute together. So, okay, by this point, I was pretty firmly shipping Mack/Trudy.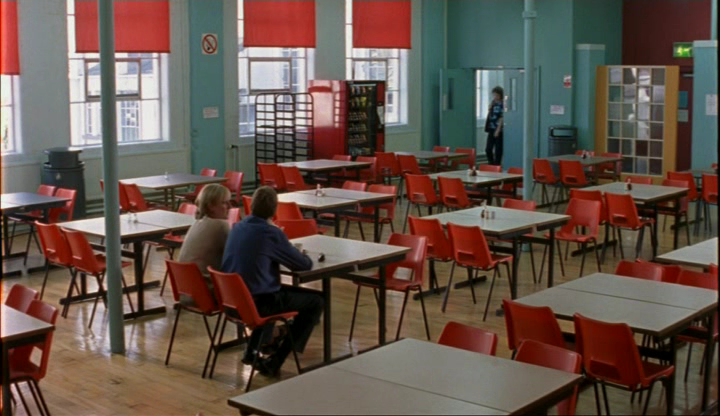 Trudy decides she needs a holiday, so they interview Frieda to check that she's up to taking over for Trudy for a while.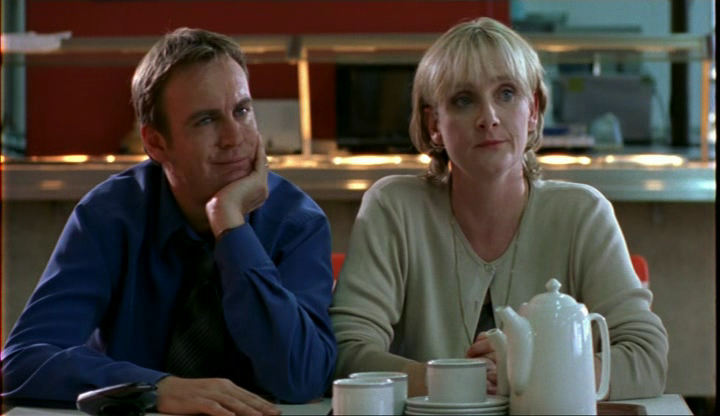 Phil's eyes look especially blue thanks to the shirt.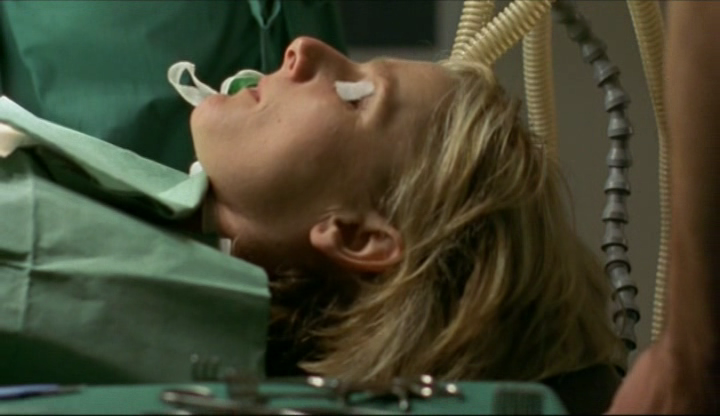 Trudy's holiday involves surgery.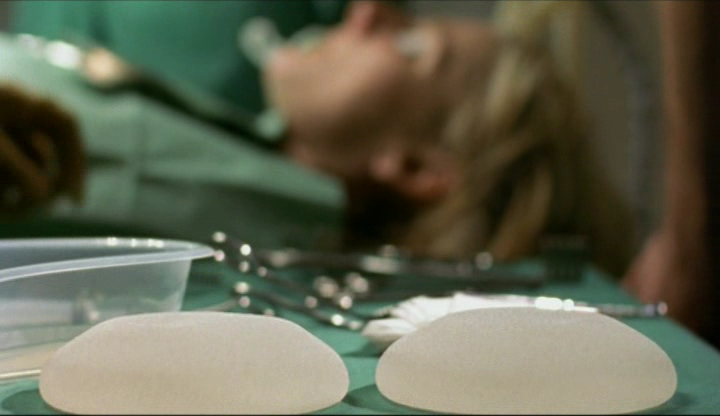 Uh. Yeah. There are so many things I could say about this, but I'll let you watch the episode yourself and decide.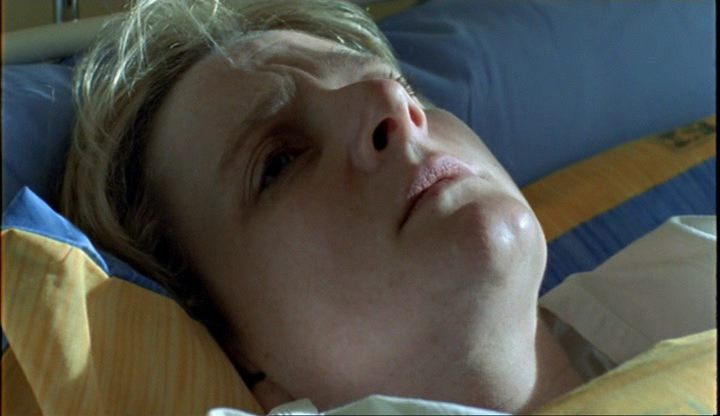 Unfortunately, Trudy doesn't react well to having had the surgery.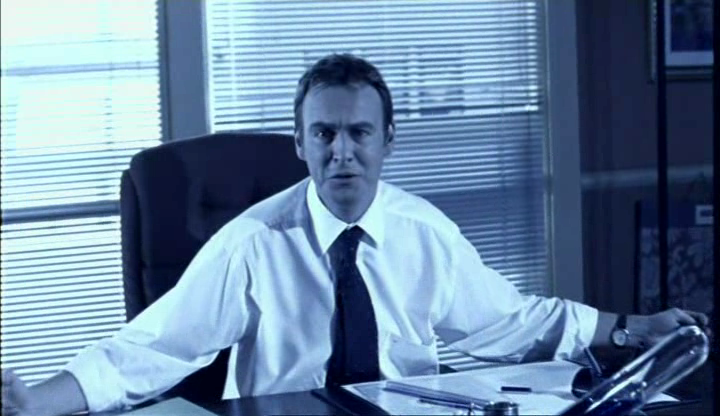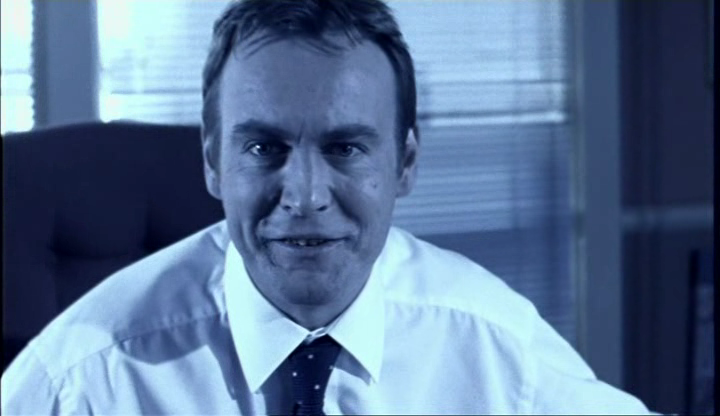 In fact, she has a vivid dream about Mack, which in some part reveals how Trudy feels about him, and is in others, disingenuous.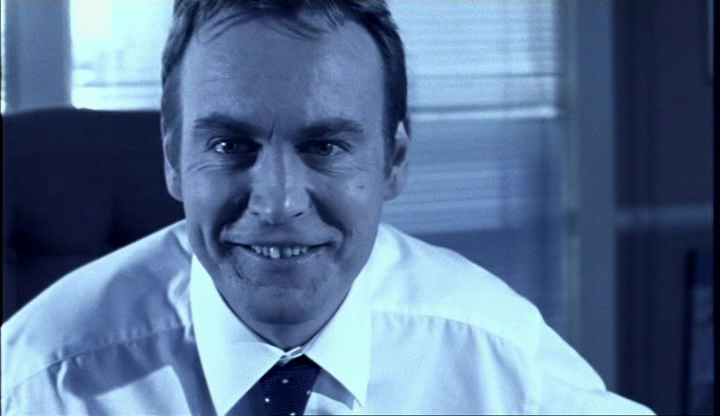 This, my friends, is a cap in a million. This is one of very few times you will ever capture Mr Glenister grinning, in a shot that isn't heavily out of focus or blurred. Savour it whilst you can. And try not to be vaguely disturbed like I am.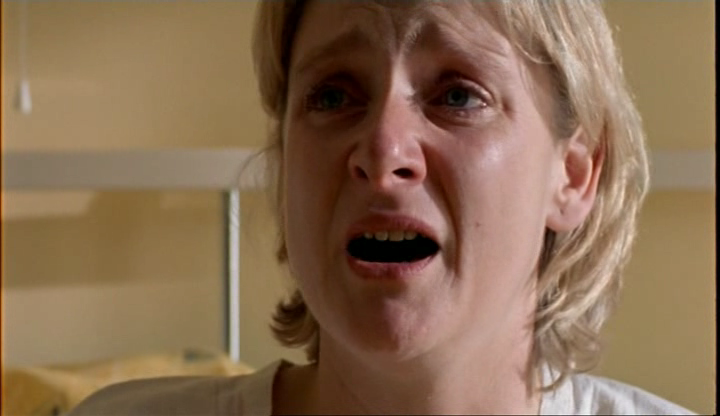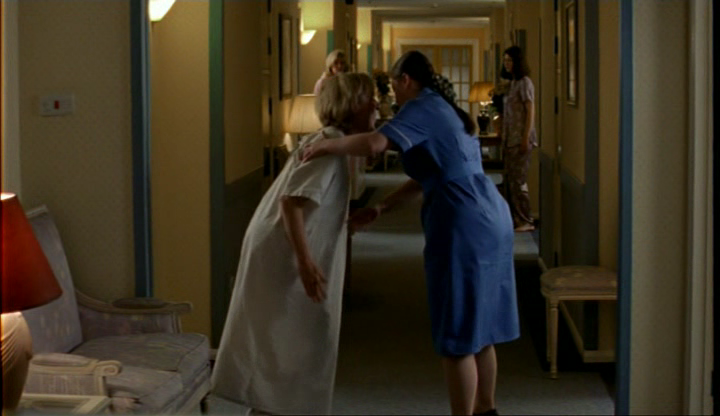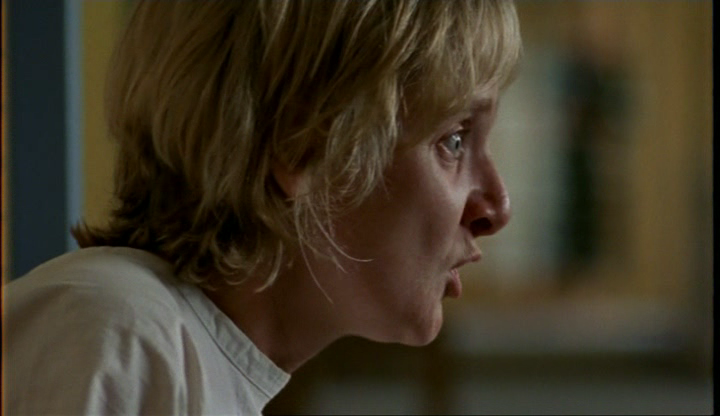 Trudy has a freak-out.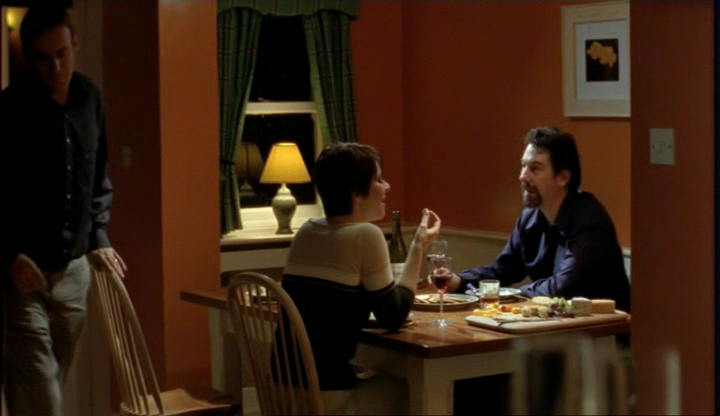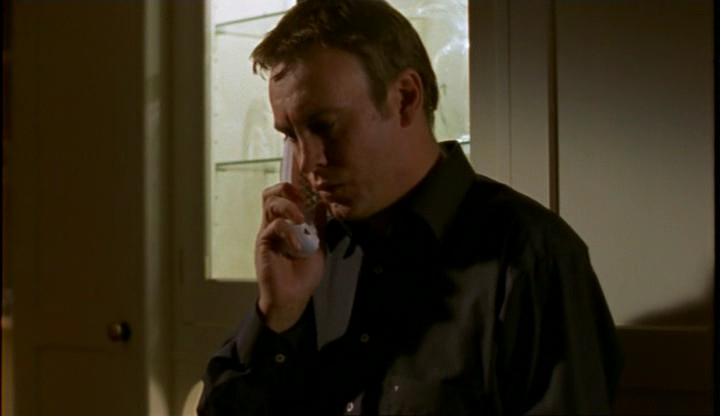 And she's put Mack as next-of-kin on her forms, so he's called up to comfort her.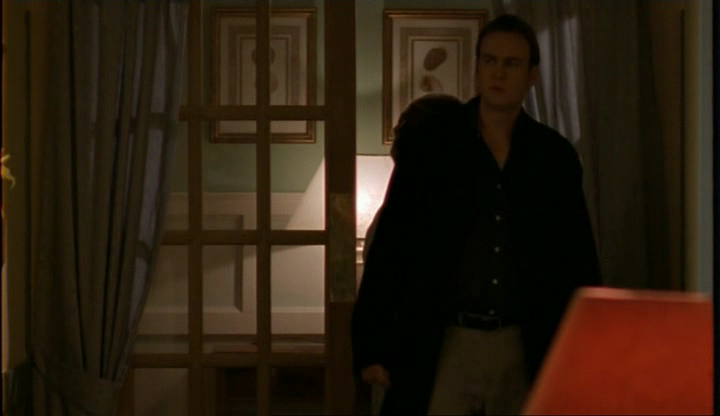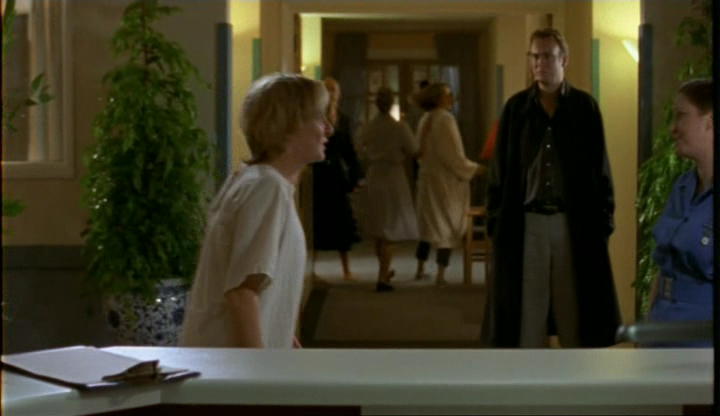 He comes and is very, very disturbed by what he sees and hears.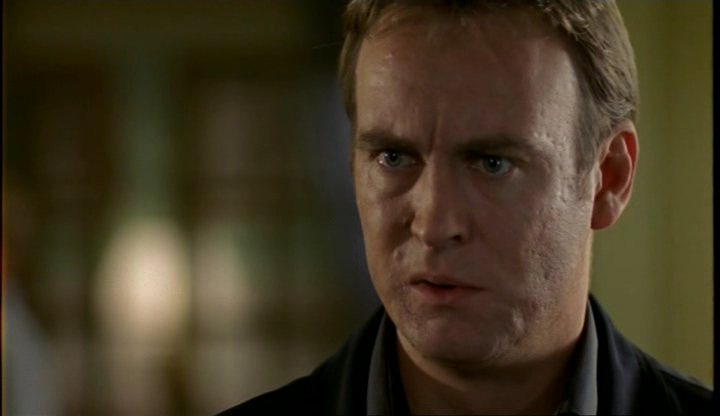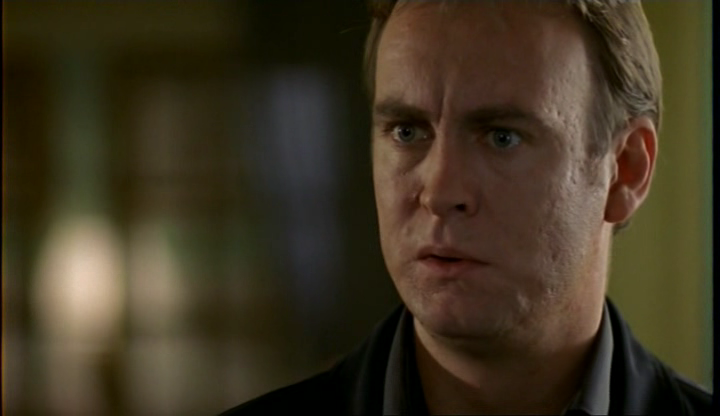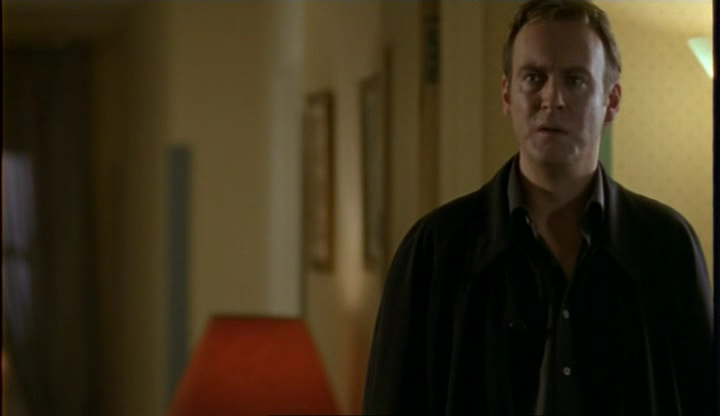 Very disturbed.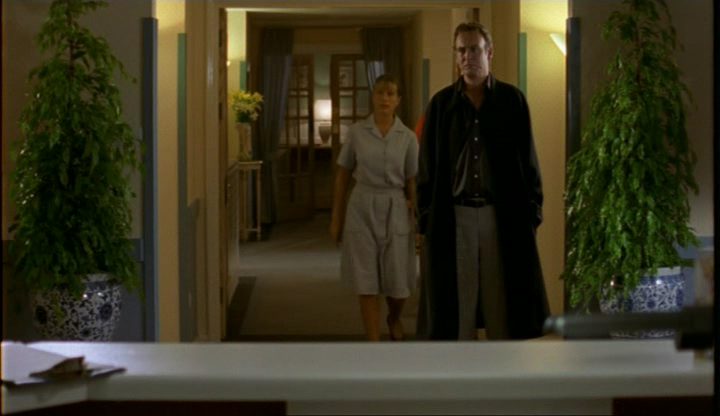 On the up-side, he is wearing The Coat.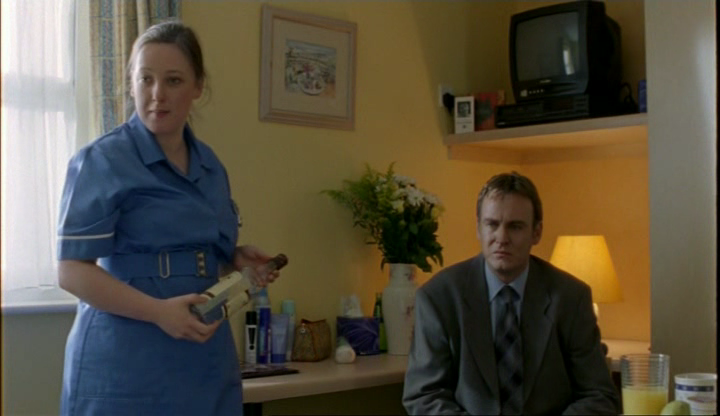 Phil does a fantastic job of looking both disturbed and disgusted.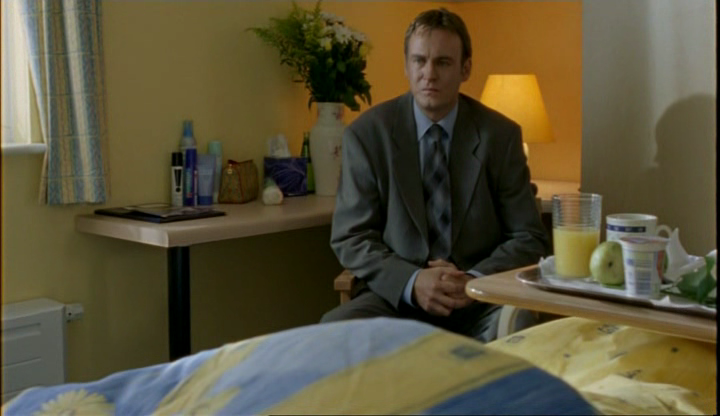 Now, I will say this, because it's important for what comes next. In her freak-out, Trudy spoke all about Mack's wife Katherine. We know from previous episodes that Katherine is a bitch who sleeps around, and Mack knows this, but doesn't admit it to himself, so he gets extraordinarily angry with Trudy. Yet, he still sits in vigil at the foot of her bed, and this kills me.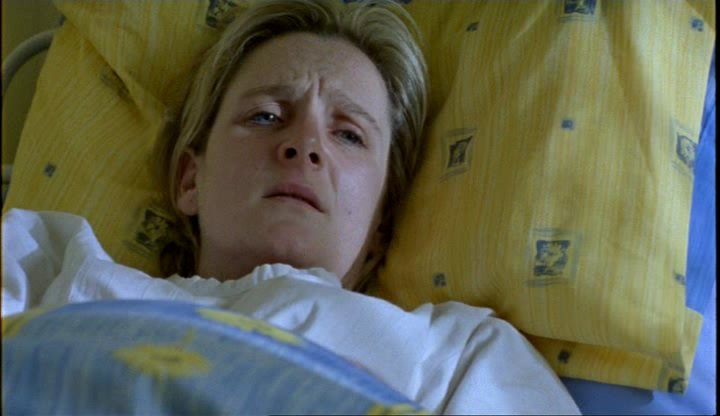 But... well, he's conflicted. He says some very harsh words to Trudy and leaves her.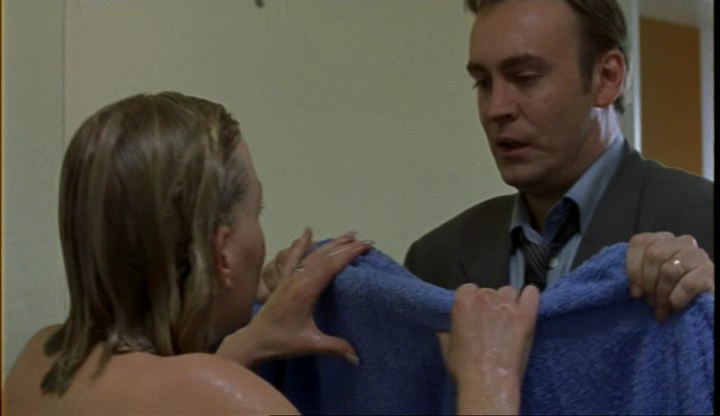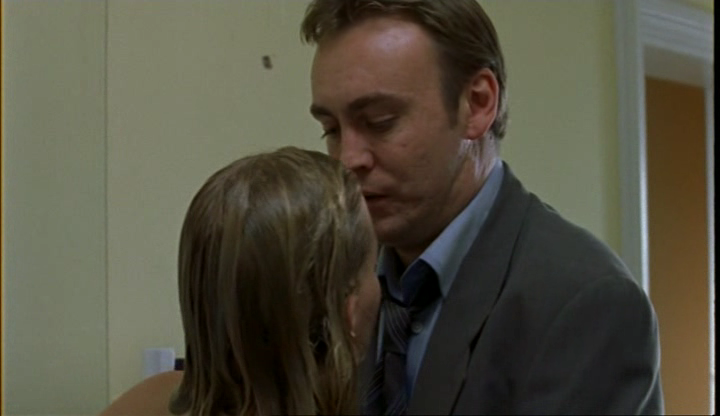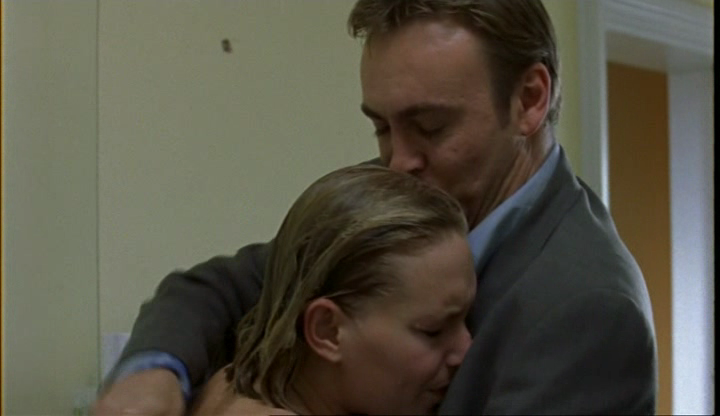 To return home and wrap Katherine up into a hug.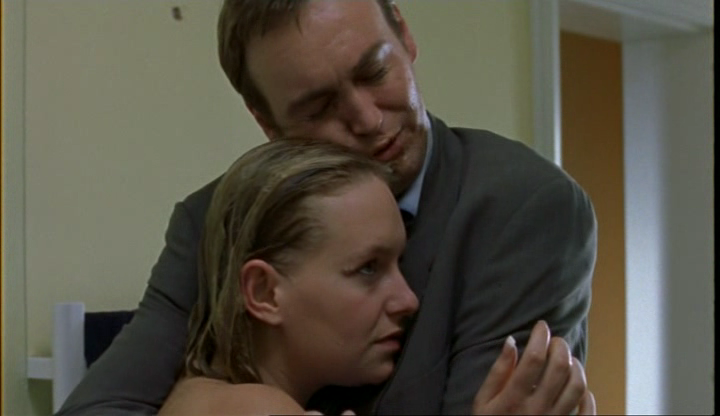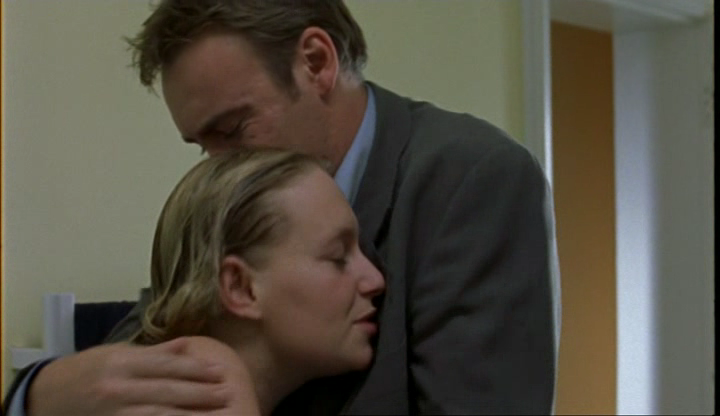 I wish I was Katherine.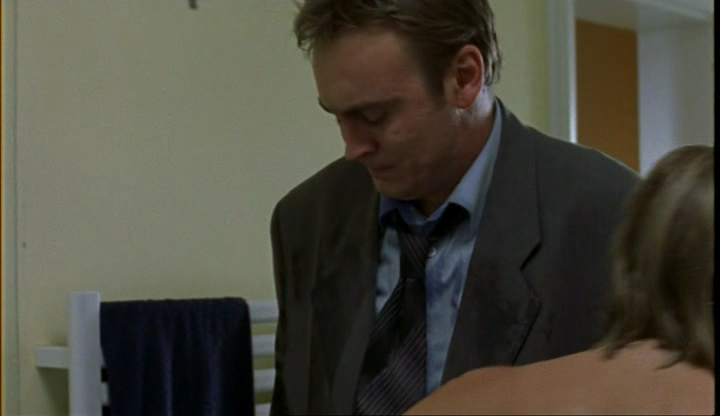 I think this is one of the saddest things I have ever seen. This whole episode invokes a sad "oh" from me, actually.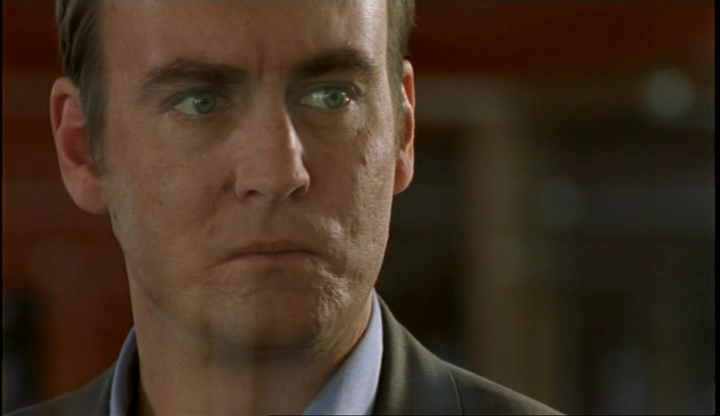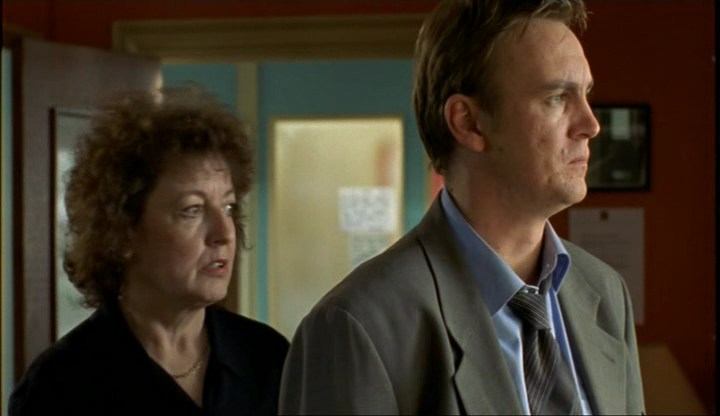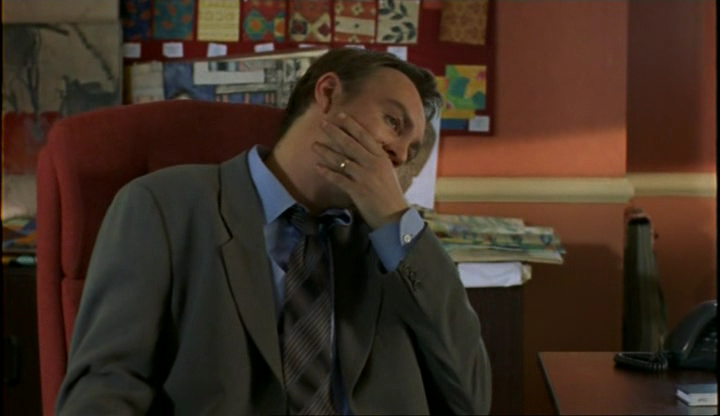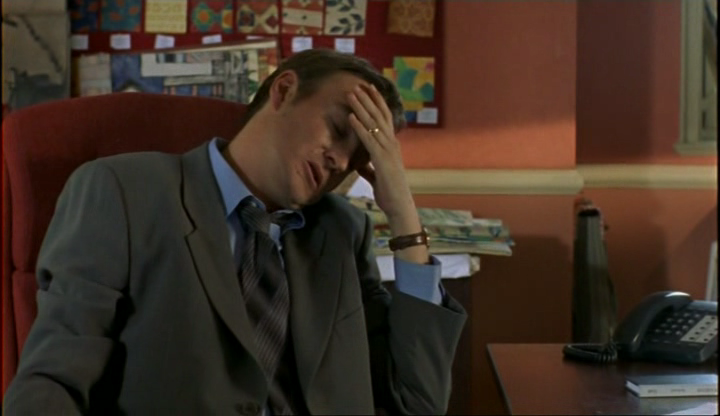 Mack is full of angst.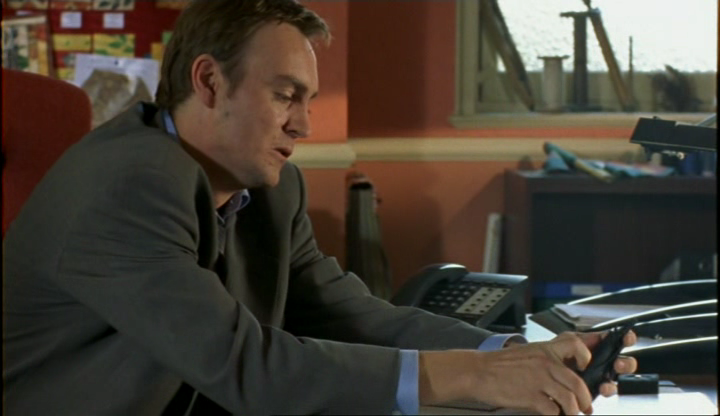 And ignoring Trudy's calls.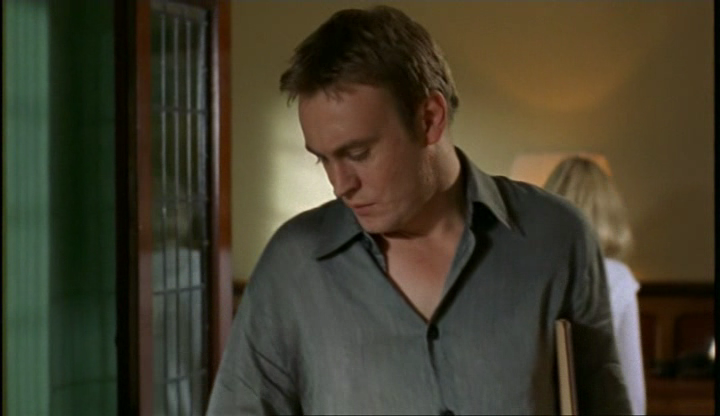 Until there is one he can't ignore.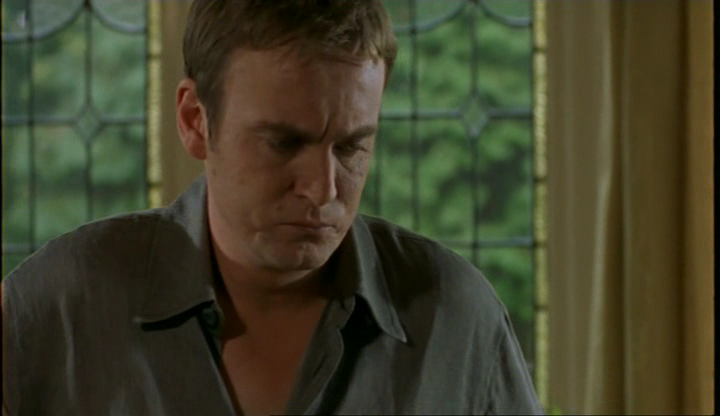 I'm just going to dwell on the open-necked collar for a while.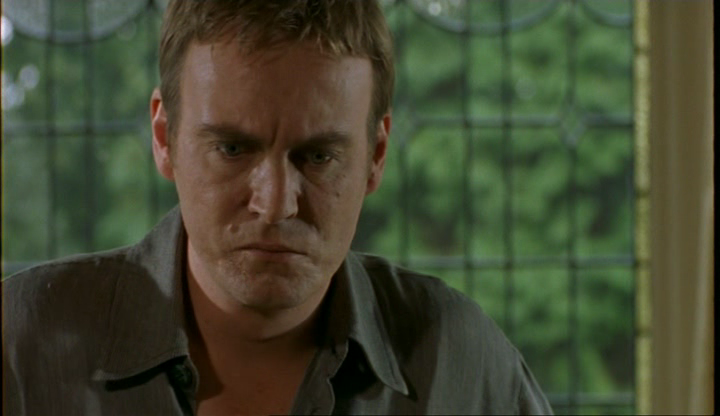 Don't mind me.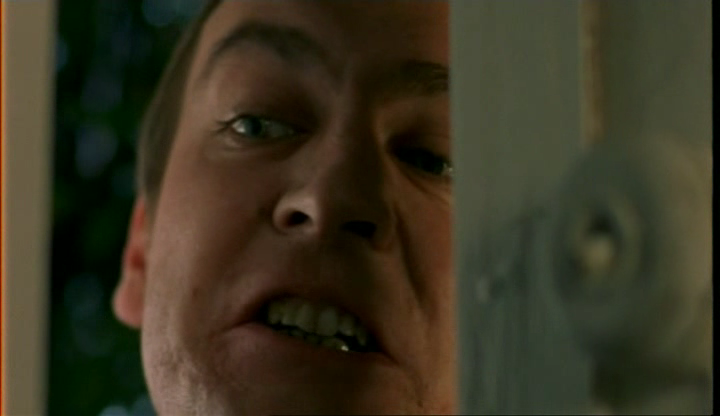 This scene made me ache. It was so visceral and painful. Mack is being an absolute bastard, but I still feel for him, because his whole veil of 'wonderful life' is crashing down and it's making him react in this truly horrible way.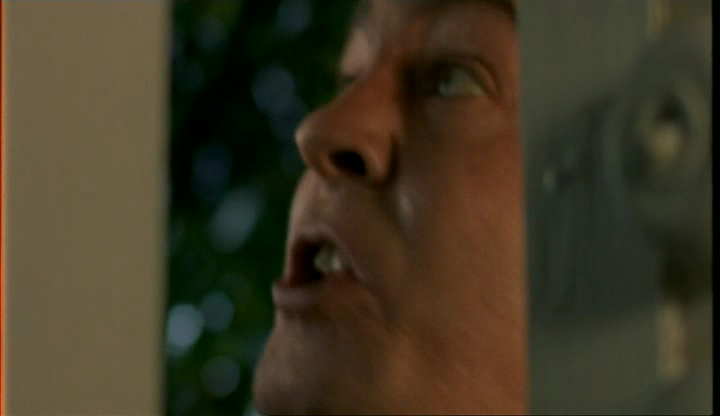 Because, by this stage, we've seen that Mack is a Good Person. He really is. He's quite moral, and quite conscientious, and he cares for people. But he's also very flawed, and his major flaw is his love for Katherine, who just doesn't deserve it.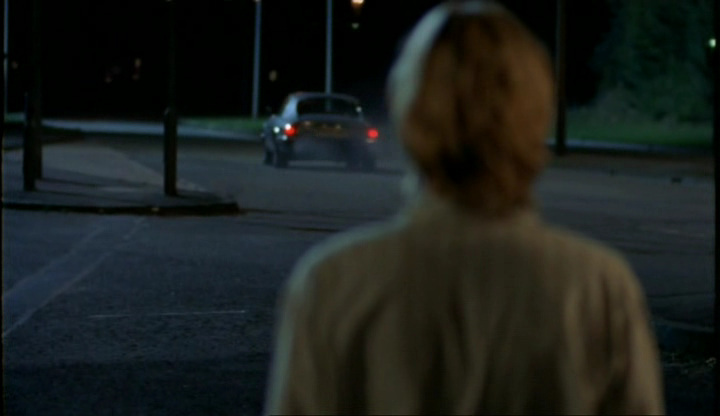 Trudy is admirable in this scene. She is clearly upset by what Mack is saying, but she holds it together.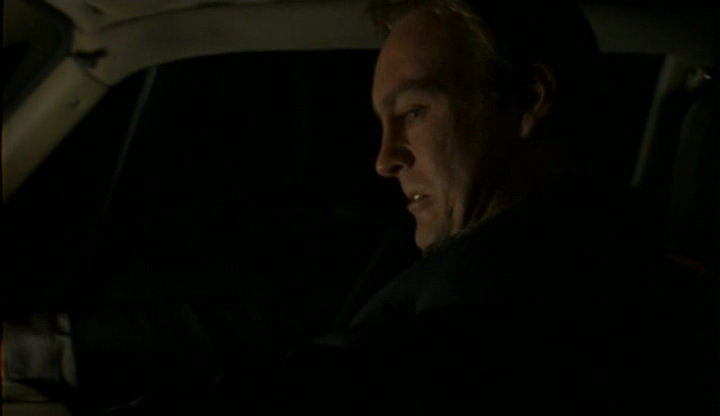 Mack drives off in a fury.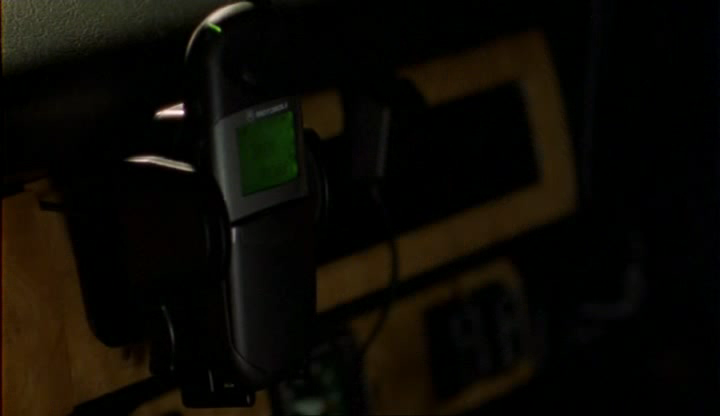 To his credit, Mack does accept Trudy's call.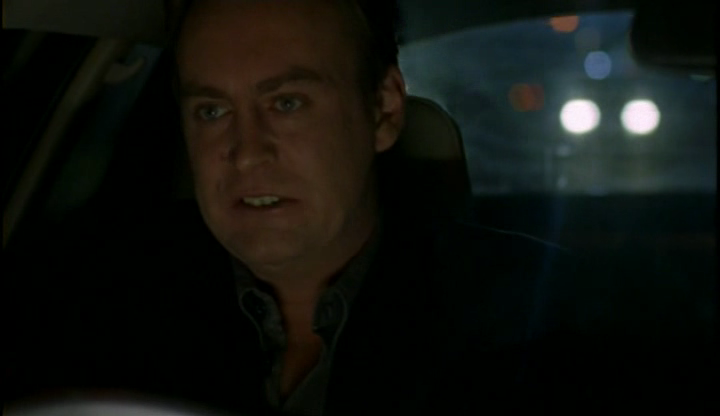 Trudy tells him everything he should already know, and if I hadn't loved her before, I certainly would have from this.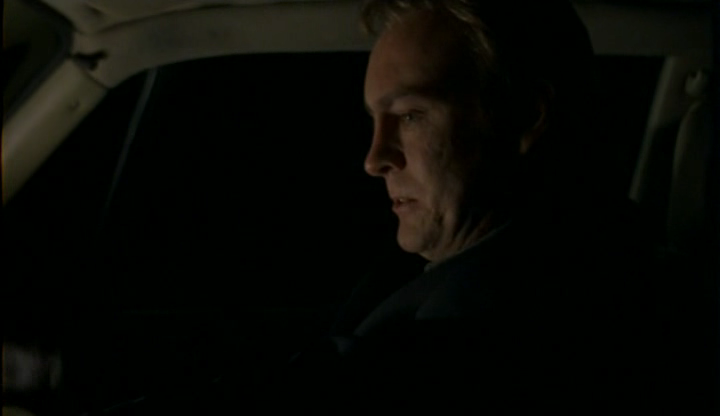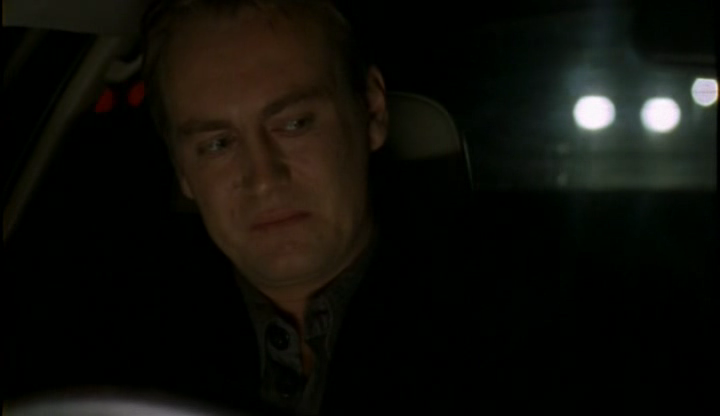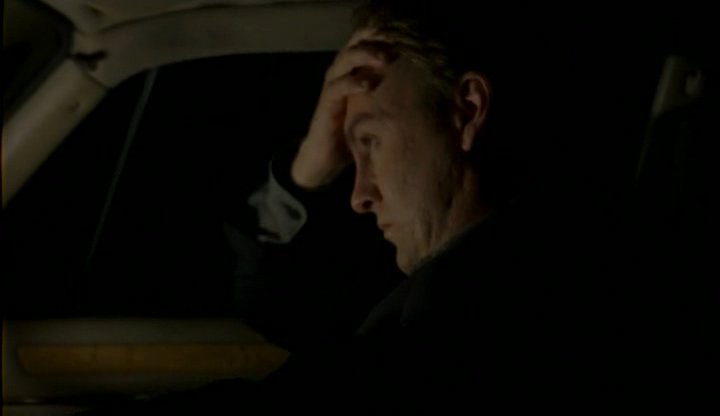 He is clearly in pain from this encounter. It's heartbreaking.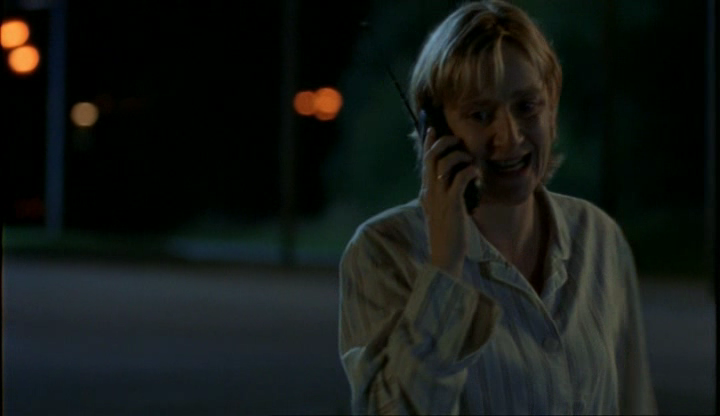 But Trudy sticks with brutal honesty - something which has been absent from Mack's life for far too long.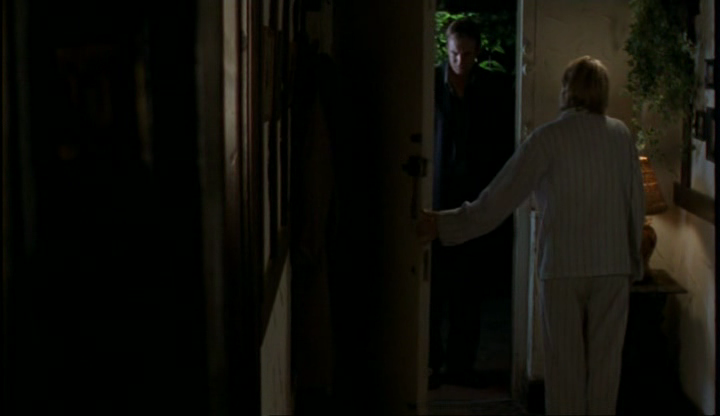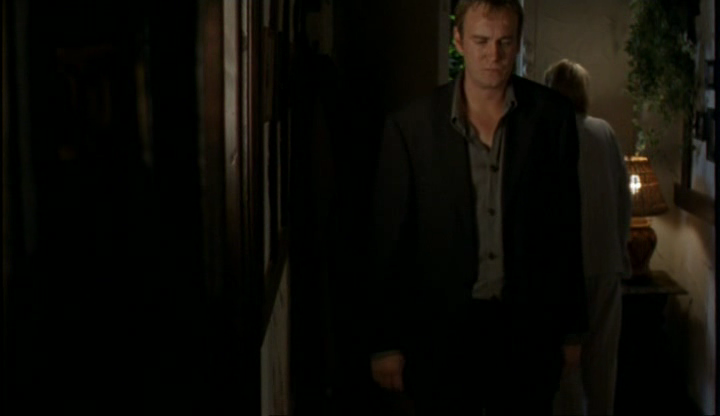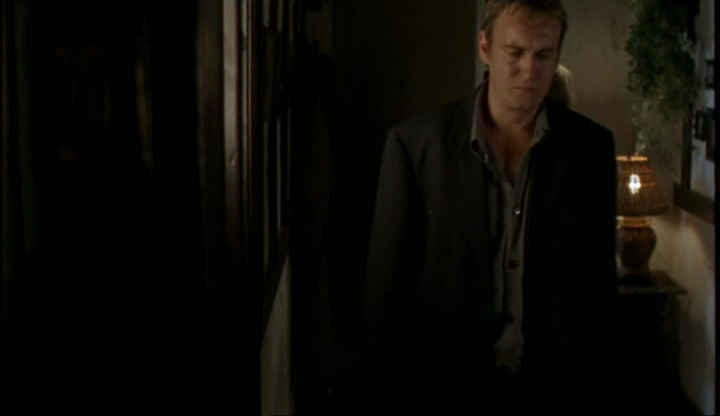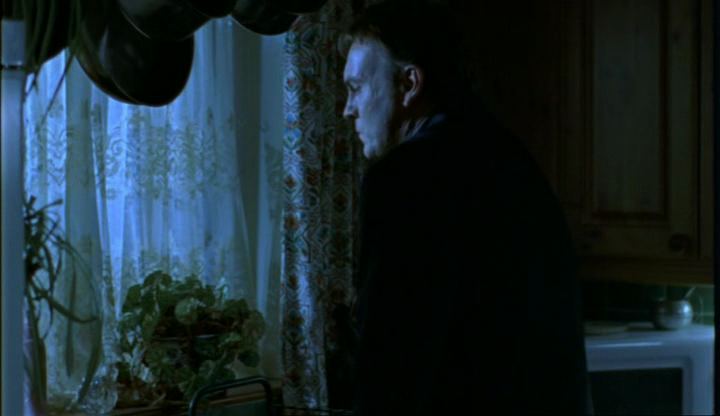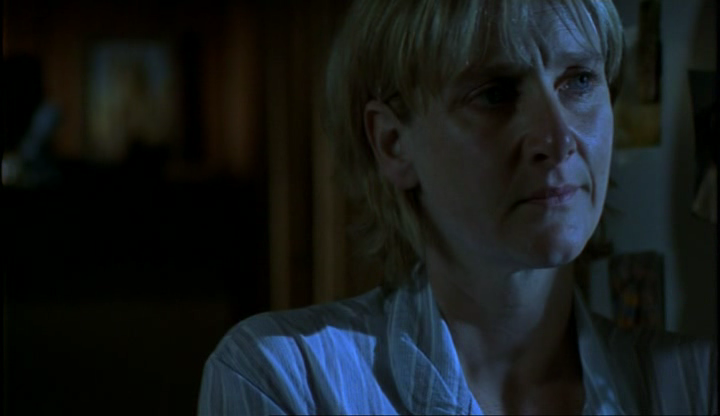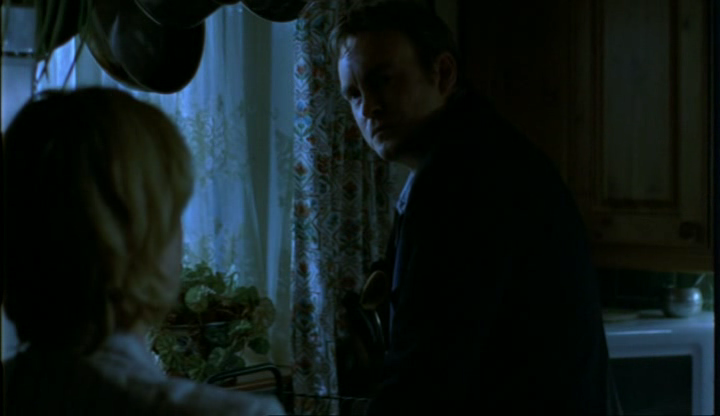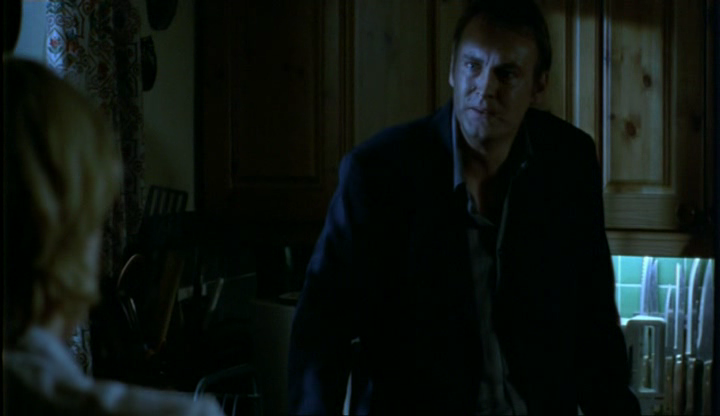 Mack returns and discusses it with her more as a rational adult. Not completely, mind, because he insists on going back to Katherine.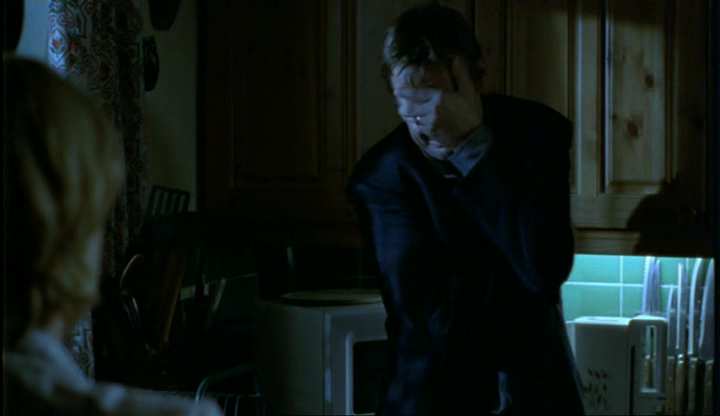 Oh, Mack.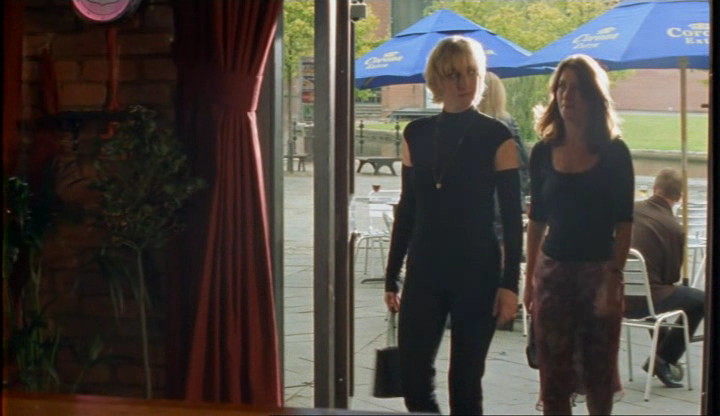 After this, Trudy begins to take control of her life. And whilst I wouldn't advocate breast enhancement surgery for everyone, it does appear to give Trudy the confidence she felt she needed.



Trudy returns to work. I'd like you to take special-note of the Glenister silhouette looming in the background.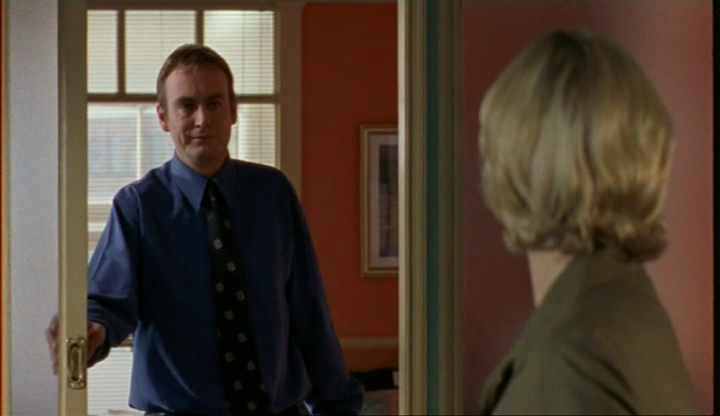 There's an awkwardly sweet Mack and Trudy moment.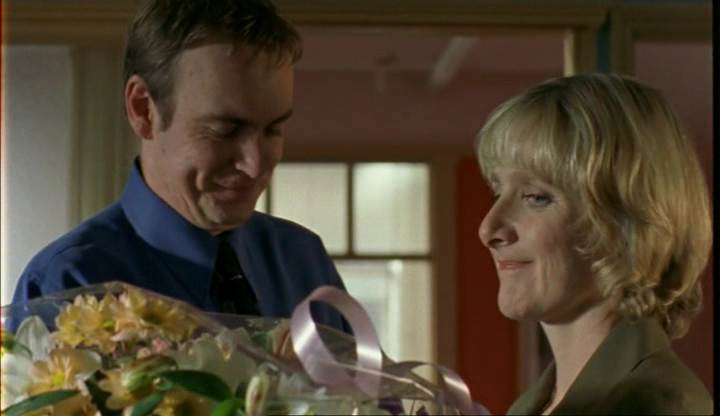 He brings her flowers.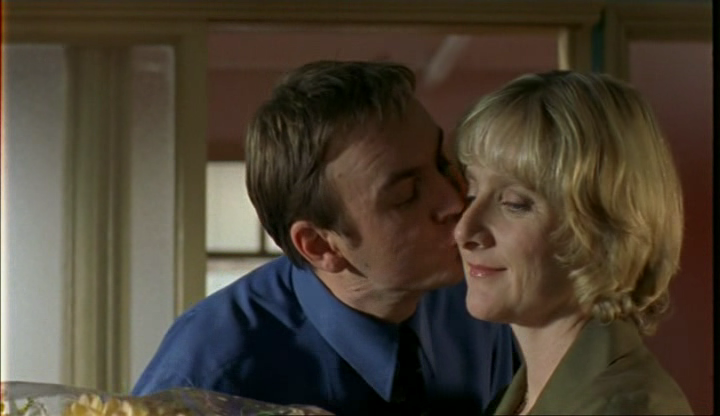 Aww.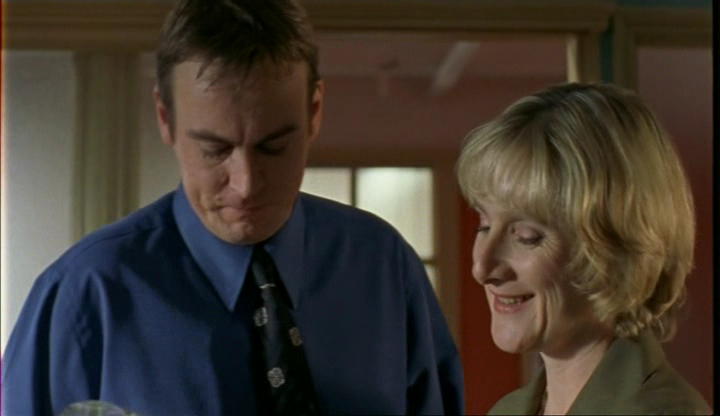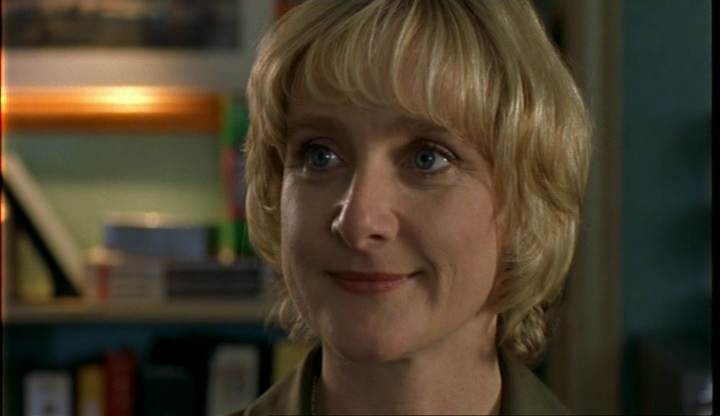 ♥
I am really glad they returned to being friends.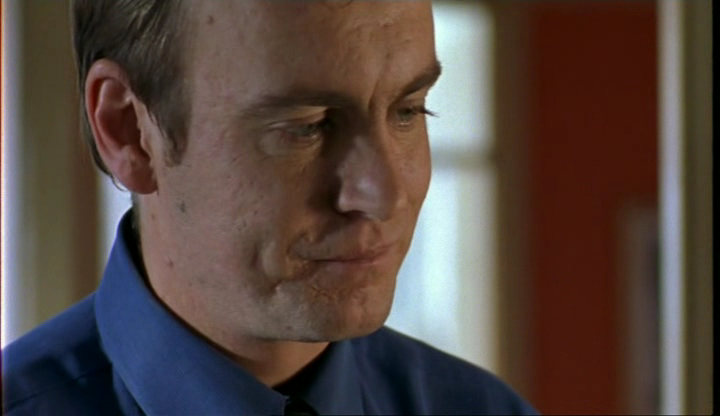 I have a weakness for gruff men being teddy-bearish. It's about three on my list of things I like.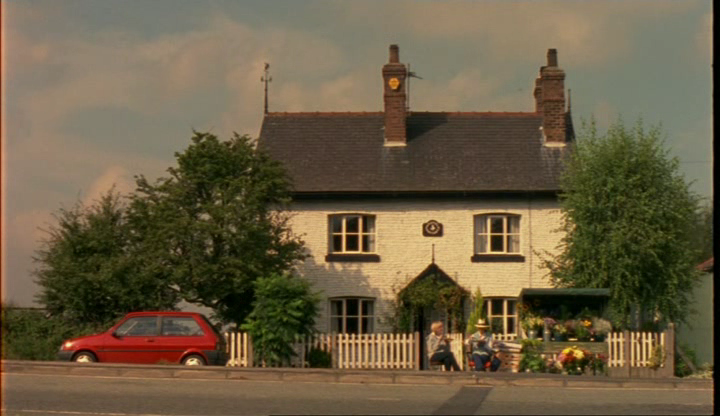 The episode ends with Trudy being happier with her life and getting along with her sister, which is sweet I think.



Episode 1 (John Simm), Episode 2 (Christopher Eccleston), Episode 3 (Philip Glenister), Episode 4 (Wil Johnson), Episode 5 (Philip Glenister), Episode 6 (Philip Glenister).