My last couple of days have consisted of completely ridiculous projects - but my have they been fun.

Project The First - a Christmas themed banner for something
soobunny and I are running -
martianholiday - The Armed Bastards Exchange. There's nothing quite as silly as - well - go have a look and you'll see what I mean. Also - if you're a Lifer - join CID. You know you want to.

Project The Second - a halloween costume that consists of a Demon Cow shawl. Now, this one was just fun. It's perfectly normal to want to go to a halloween party as a cow. And so, I did.

Originally I just wanted some cow print material - but they didn't have any at the fabric store, so I went in for the more adventurous route. I got 2 metres of black crushed velvet, 1 metre of white crushed velvet and 1 metre of iron on double-sided material adhesive. Lo - 4 hours passed in which a lot of cutting out and ironing occurred. I got my Dad to help me, because he's got much more talent than I do at things which involve craft.

This is where it becomes plainly clear that my dad is made of awesome - because he got creative. He made some interesting shapes with which to adorn my demon cow hide.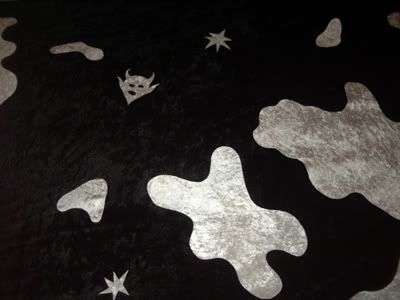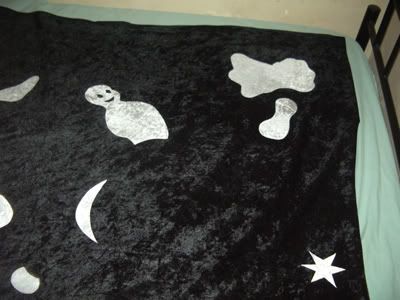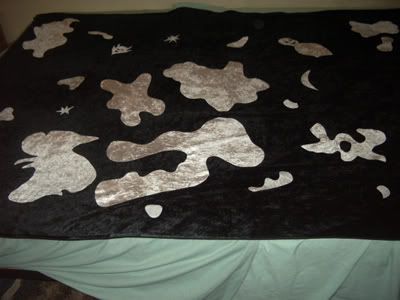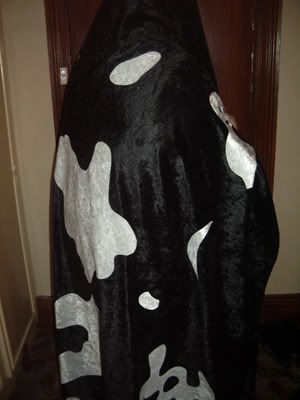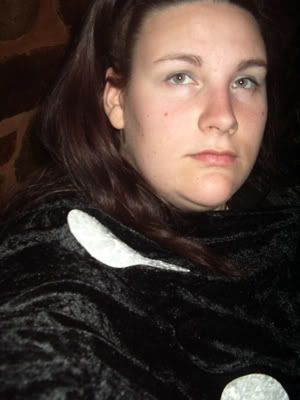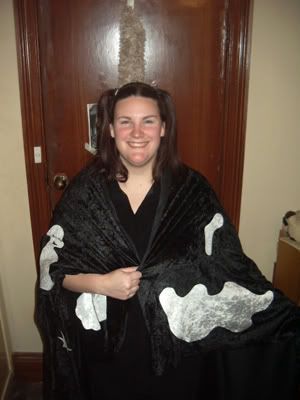 Yes, I am a black cow with white patches. But a demon cow would be, don't you think?


The party was fun.
torins and his family were gracious hosts. They know a lot of people. And! Lots of people dressed up - which was really cool.

I also have pictures of Amy/
liani_banks and her boyfriend Nathan, but I forgot to ask for permission to post their pictures, so I won't. I will tell you that Amy went as the scary angry creature from The Grudge, and Nathan went as V from V for Vendetta. Their costumes were awesome.