We continue with State of Play (2003) - The Second Episode.

It occured to me that some people might have no idea what this show is about, so;

The back of the DVD states that it is "a tense contemporary thriller that twists deeper and deeper into the hostile twilight world where politics meets the press."

It's written by Paul Abbott, who wrote Cracker. Basically it all surrounds this politician, Stephen Collins, played by David Morrissey. His research assistant dies, by being run over by a train. They don't know if it's suicide, or an accident, or... murder. But that's not just it. At the same time, a seemingly completely unconnected young man is murdered by a professional hitman. John plays Cal, the journalist who is attempting to work out the story - he was also once good friends with Stephen, having acted as his campaign manager. Phil is the DCI in charge of the multiple investigations.

In this episode, our main boy Cal gets sexed up, the intrigue continues, and we see the appearance of James McAvoy, who you may know as Mr. Tumnus from The Chronicles of Narnia, or Paul Bettany's whacked out brother in Wimbledon, or if you were anything like me before I looked him up - "that guy!"

That's about all the spoilers you're going to get.

So, there are pictures of John Simm, David Morrisey, Bill Nighy, Polly Walker, Kelly Macdonald, Philip Glenister, James McAvoy and Marc Warren. There are 55 caps this time and they are all 450 pixels by 252 pixels in size.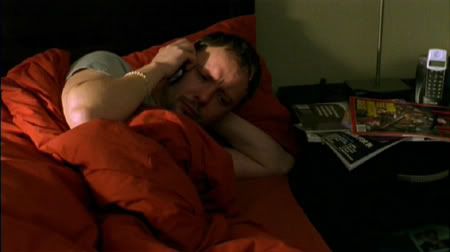 We begin with a shot of Cal in bed, on the phone - simply because we can.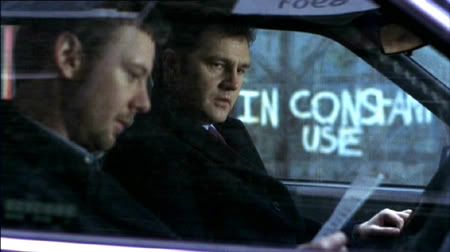 In this episode, Stephen breaks up with Cal. We don't see him for much of the hour-long programme.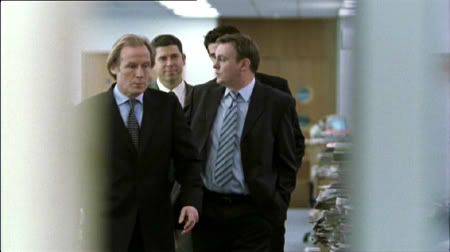 DCI Bell decides to pay a visit to our journalists (to console Cal, clearly).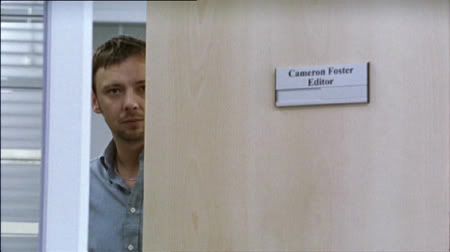 Cal watches his super secret boyfriend (one of many, we come to find out), with morbid curiosity.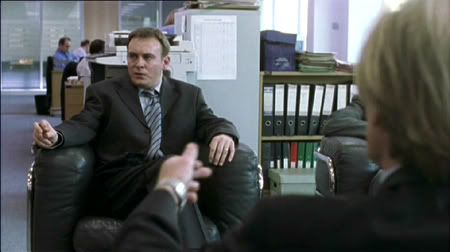 Cameron tries to confuse DCI Bell, but Bell's not stupid.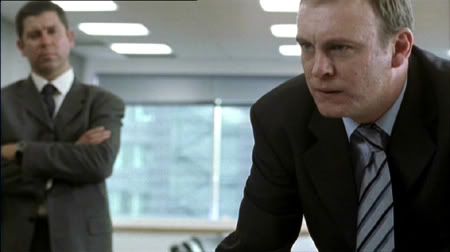 DCI Bell gets rather annoyed with Cameron. "One of my officers was murdered - don't piss me about."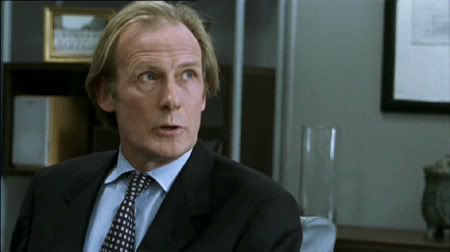 Cameron pretends he doesn't know what he's talking about.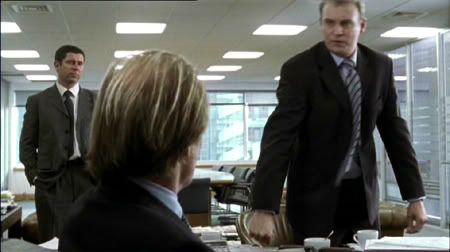 DCI Bell PUNCHES the table, because he is BRILLIANT.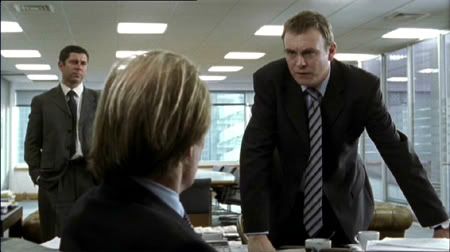 He leans in all menacing-like.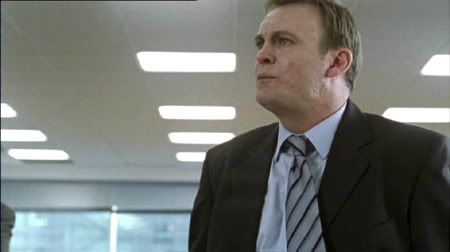 Then starts trying to track down his darling Cal, sniff sniff.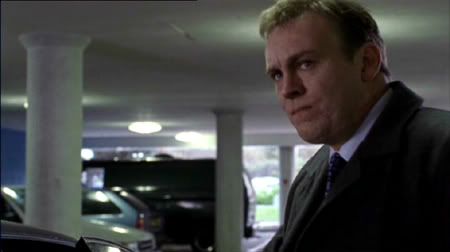 He can't find him and is depressed.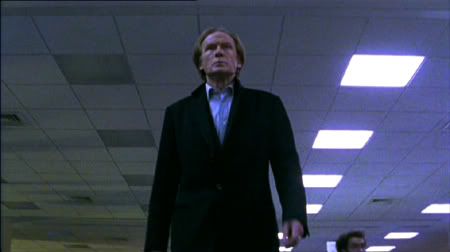 Bill Nighy proves he has won the day and continues to be made of awesome.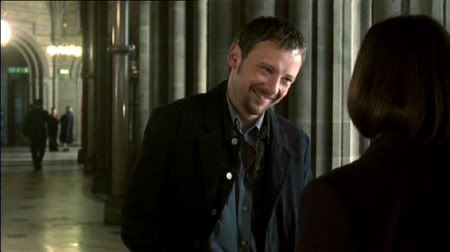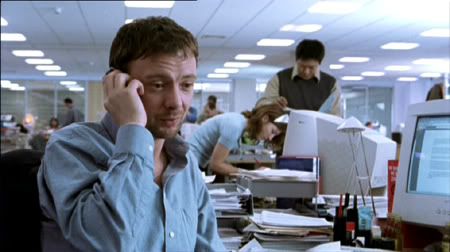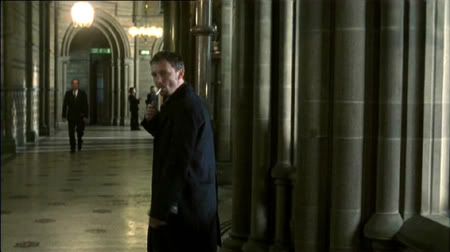 These are purely random but fun shots of Cal.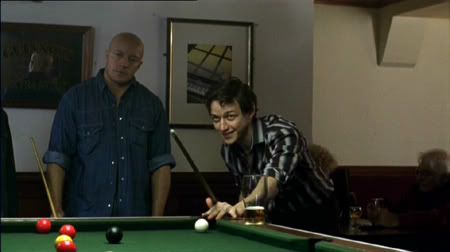 This is Dan, a freelance journalist. He's played by James McAvoy.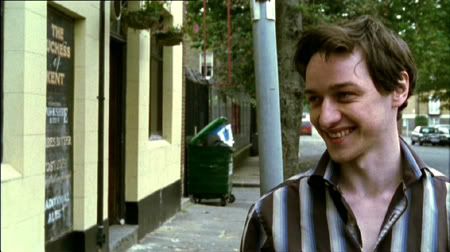 He is cute.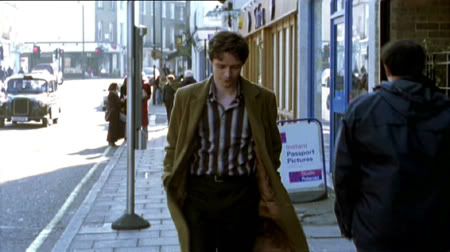 He wears a long coat!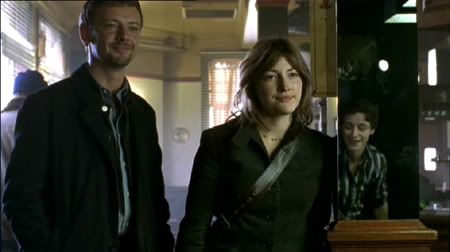 Cal is clearly in love with him.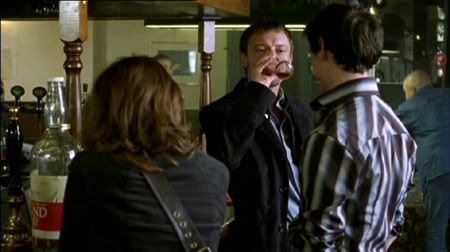 Cal shows off his startling ability to drink to impress him.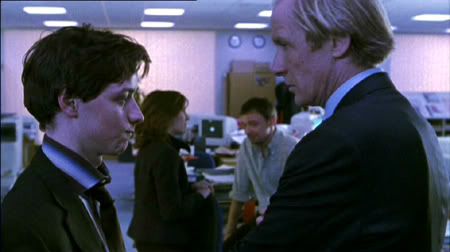 Dan, it turns out, is Cameron's son. The two get on like a house on fire (burning, smoke everywhere).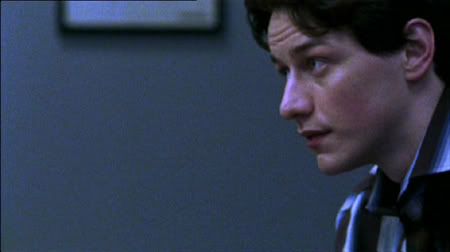 Dan joins our team of journalists.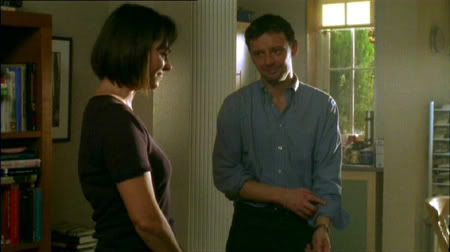 So, Stephen's wife Anne, played by Polly Walker, needs a place to stay, and Cal grudgingly allows her to stay with him. Take great notice of his rolling up his sleeves. (Sam!)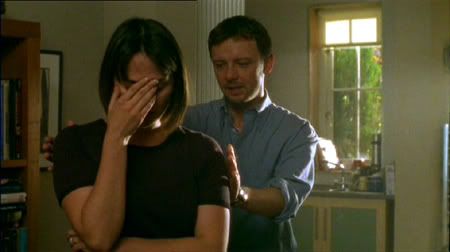 He doesn't quite know how to interact with her.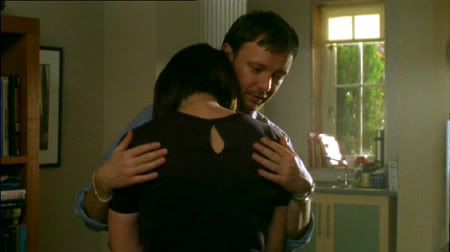 He soon realises that a woman likes to be touched just as a man does. Now he's back in his comfort zone.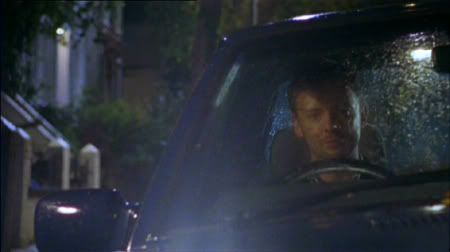 Later on in the episode, after interesting plotty stuff which I'm choosing not to discuss here, Cal's deciding whether he should go back to his apartment to comfort Anne.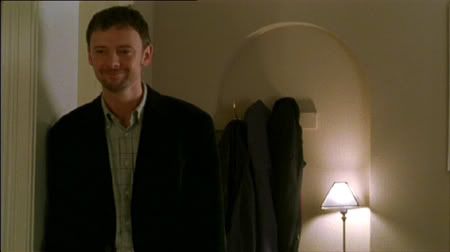 He decides to do as such.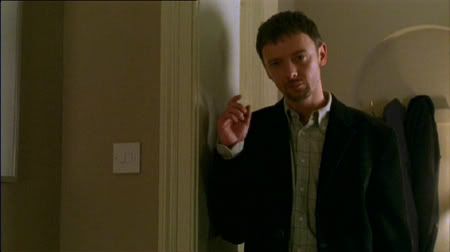 He knocks just for the hell of it.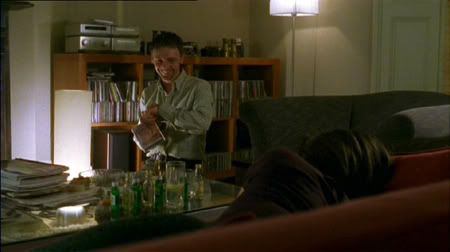 In lieu of being able to have either Stephen, The Young and Pretty Dan, or The Guv (here dressed up as DCI Bell), Cal settles for Anne. The two play a goofy game together. It's a very sweet scene, including the memorable line "You don't know, do you? You're crap," said in a really cute way.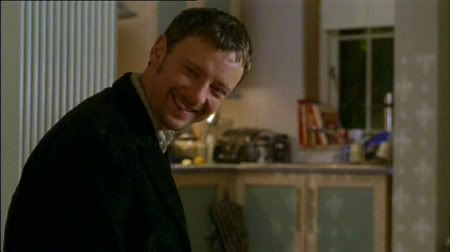 They giggle together.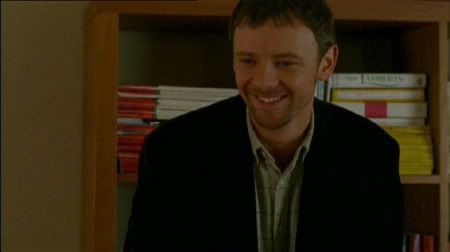 A lot.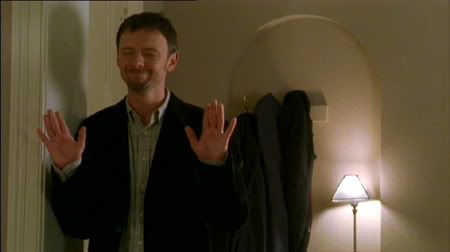 John shows off how much he's like Simon Pegg again.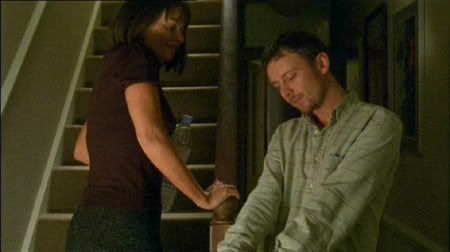 I'm not sure what Cal is saying at this point, but I suspect it's something like "and it's this big."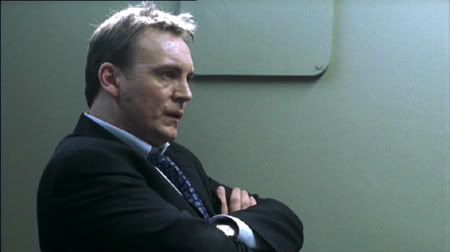 Meanwhile DCI Bell interviews Della.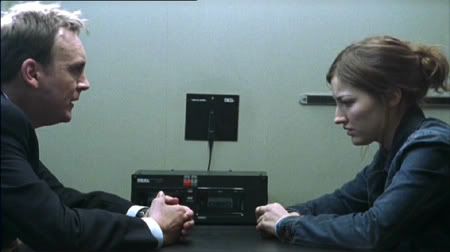 He starts off being all macho, but soon becomes the fluffy bunny we all know Phil is in real life.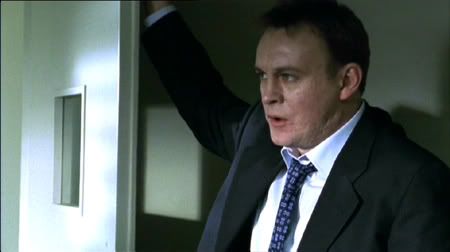 He's a really great character. Compassionate but firm. (Sexy as hell.)



Cal's looking for some loving.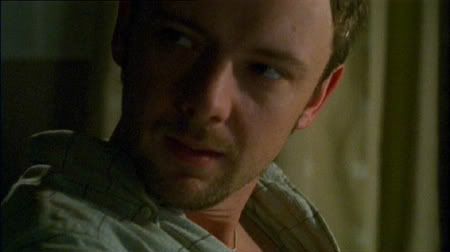 Don't believe me? How about a close up.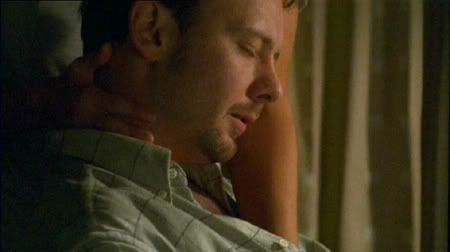 Sexed up! I really want to be Polly Walker in this particular scene. Oh my yes.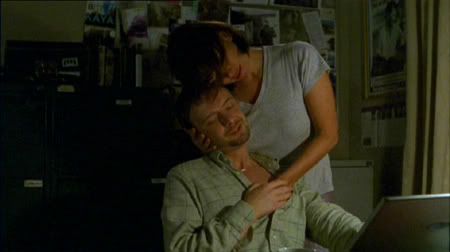 Lower. Lower. Too low! Lower.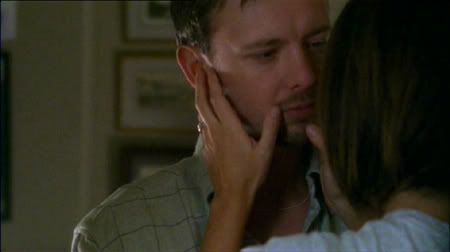 Kissing occurs.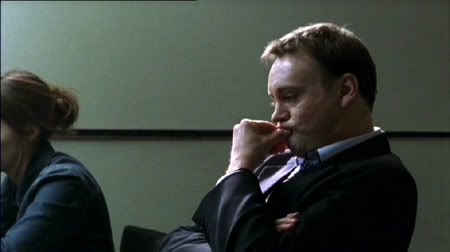 Meanwhile, Phil is depressed as hell that he's not undressing John, and is contemplating suing the producers.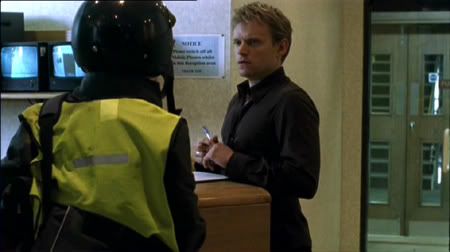 And then Marc Warren appears as Dominic Foy, a character who is larger than life, as you get to see in the next episode.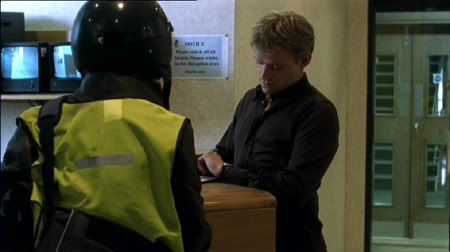 What time is it, Marc? Oh yes, that's right - FANGIRL TIME.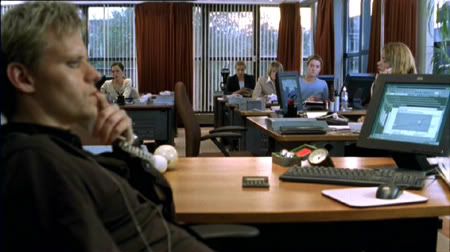 This is a gratuitous "look at that eyeliner and mascara!" shot. Seriously. Look at it. MMMMM. They made this series purely for me.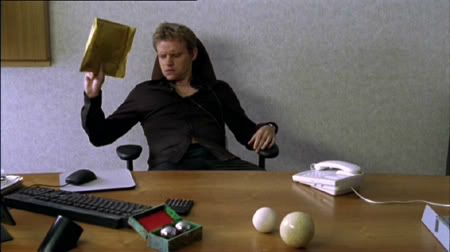 This is a gratuitous "oh my God he's sexy" shot.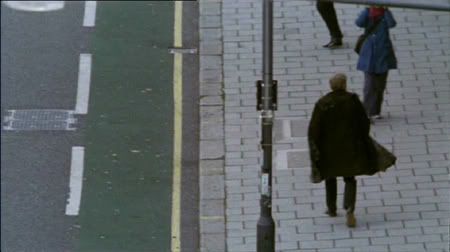 He also wears a long coat. I think the costumer had a long coat kink like I do.



The journalists catch up with him, because he's important in the case they're researching.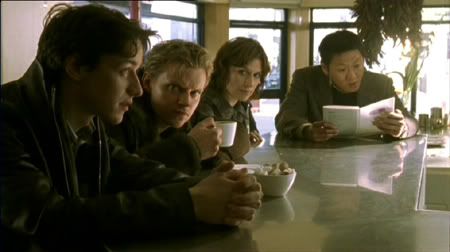 They take him for a coffee.



He's not especially happy to be there.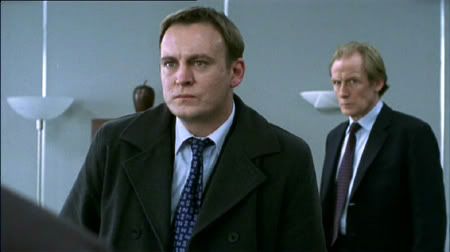 But - let's skip back to the office. You can't tell, because this is done shot reverse shot, but DCI Bell is looking at Cal. Which means John + Phil = OTP.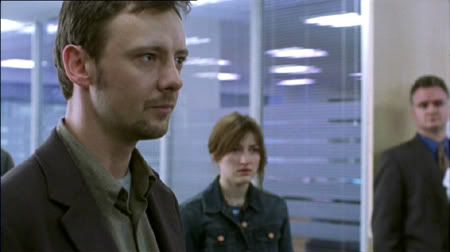 Cal's not very happy about it. He wanted to see DCI Bell sooner, when he was wearing an easier to remove shirt.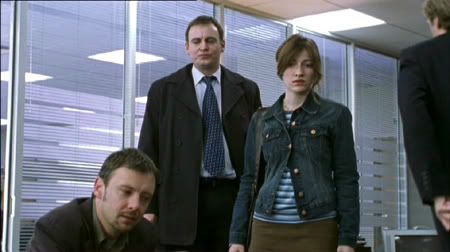 Look at Phil's eyeline and tell me that's not true love. These two were clearly meant to be together.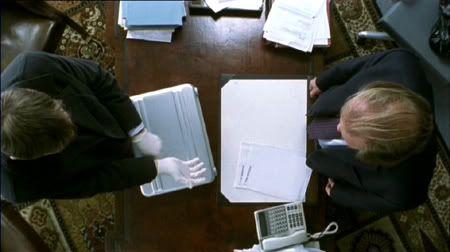 I really wouldn't like to say what's just about to occur in this scene. Suffice it to say, Phil and Bill got along really, really well after this series.


And that's it for now. Tune in tomorrow for Episode 3 - which I seem to recall as being my very favourite installment of the series, and should include Sean Gilder, who is the most brilliant Styles in the Hornblower films. There's banter between him and Hobbs The Guv DCI Bell!

Episode 3...