undeniablynikki tagged me for two things because she is EVIL.


List seven songs you are into right now. No matter what the genre, whether they have words, or even if they're not any good, but they must be songs you're really enjoying now. Post these instructions in your livejournal along with your seven songs. Then tag seven other people to see what they're listening to.

Odds - It Falls Apart
The Grates - Trampoline
BNL/Bruce Cockburn - Lovers in a Dangerous Time (I told you, I have it bad - very bad. I cannot stop listening to this song. It hasn't left my mp3 player since I first heard it. Every time it comes on it's like I'm listening to it for the first time.)
Johnny Cash - Sunday Morning Coming Down
Ella Fitzgerald - Everytime We Say Goodbye
Belle & Sebastian - She's Losing It
BNL - Call & Answer

I'm not tagging anyone. Do it if you want.



Each player starts with the six weird things/habits/quirks about you. People who get tagged need to write a blog of their own stating their six weird things/habits/quirks, as well as stating this rule clearly. In the end you need to tag six more people and list their names. Don't forget to leave a comment that says "you're tagged" in their comments box.

NEW RULE: Once you have been tagged and written about your own quirkiness, you must leave one comment on the original posters quirk-blog of one weird quirk you have observed in them. I will change this to; anyone can point out an odd quirk/habit of mine if you wish to.

1. I hate the telephone and only use it under the most dire of circumstances.

2. I'm very uncomfortable talking to new people unless they ask me questions. If they ask me questions, I'm good to go. Actually, I'm even like this with people I've known for years. The key to get me to speak up is to ask me something, because, clearly, I think I have all the answers.

3. I very occasionally think of my online persona as its own entity. I used to think of it and how I am in person as extremely different, but it's far more just like me being myself these days. Still, I do sometimes think "what would Loz say in this situation?" - Er, yes. It did say weird habits.

4. I get obsessed easily and these obsessions usually last a long time.

5. I play with my food horrendously before it finally goes in my gob. You do not want to see me eating cheesecake.

6. I push down on the bridge of my nose when I am thinking/reading.

I'm not tagging. Do it if you want to.


I stole this one from
aingeal8c.


What is your alias?

lozenger8/Loz. Imaginative aren't I?

How did you choose it?

Loz is short for Laura, my first name. lozenger8 is an extension for an email address, the lozenger because it amuses me, the 8 because it's my favourite number.

What fandoms do you write for currently?

due South.
Life on Mars.
Slings and Arrows (well, I'm going to be...)
Potentially other tangential dS fandom.

What fandoms have you written for in the past?

Harry Potter.
Battlestar Galactica.
Wilby Wonderful.
Horatio Hornblower (drabbles).
The above mentioned.

What fics are you currently working on?

My Life on Mars ficathon entry.
A short due South piece about Robert Fraser and Buck Frobisher.
A couple of S&A ideas.

I'm not a very prolific writer. I have spurts of writing creativity but then I have long, long dry patches as well. due South was really the fandom which got me writing again. And not everything I write is especially good by my standards, but at least I'm writing. I have a do or die approach to writing. I either do it, or I die a little inside.

What is your deepest darkest fic-writing secret?

It's not really a secret. I don't write the porn. It makes me highly uncomfortable. I also don't usually read the porn, so, you know, going with a trend here.

Yes, this sets me apart from most of fandom. Even here I'm the outsider. Goo goo cachoo.

Do you have any quirks/habits in your writing?

The first thing which comes to me is usually a line of dialogue or description. I write that down and build the story around it. Planning simply doesn't exist (and that's why my plots don't either.)

I edit a story several times, coming back to read it out loud. And I still don't catch all the errors. It's annoying.

Even though I can usually pinpoint what is wrong with a story I have written and posted, I don't believe in post-published rewrites. Therefore, there are several imperfect stories up around the webosphere which will never be improved upon.

This is a bad, bad habit. I love writing dialogue without any indication (other than voice) of who is speaking. I love it.

My favourite method of this is to have a line of dialogue and then a line of description, as in my Life on Mars drabble They Love Each Other Really.

I love being completely ambiguous and only hinting at things vaguely.

I prefer writing voices which are markedly different from my own. Of course, my own voice often changes, so this can be difficult.

I like circular stories - the first line being the same as the last. I also like repetition. I also like repetition.

Do you have an OTP?

No. Well, only in Slings and Arrows fandom. Other than that, I avoid it. I believe in free love. Geoffrey/Ellen, Richard/Anna, by the way.


I can't remember who I stole this one from because I did it around 2-3 weeks ago.


1. When you looked at yourself in the mirror today, what was the first thing you thought?: I look like shite warmed up. And I did.

2. When is the next time you will have sex?: I'm never having sex.

3. What's a word that rhymes with "DOOR"?: Roar. At least when I say it.

4. Favorite planet?: E-arth.

5. Who is the 4th person on your received call list on your mobile?: I don't have a mobile.

6. What'd the last text message you received say?: Nothing. I don't have a mobile.

7. What shirt are you wearing?: Light blue v-neck.

8. Do you "label" yourself?: "Egomaniac", "Geek", "Britonozzie". Yeah, sure. No-one else is allowed to, though.

9. Name the brand of shoes you're currently wearing?: Not wearing any.

10. Bright or Dark Room? Dark.

11. What do you think about the person who took this survey?: Complete sweetheart. (Apparently...)

12. What were you doing at midnight last night?: Writing my Buck Frobisher, Robert Fraser story.

13. What did your last text message you sent say?: I don't have a mobile phone. GET WITH THE PROGRAM.

15. Where is your letter box?: By the front gate.

16. What's a word that you say a lot?: Loz.

17. Who told you he/she loved you last?: I can't remember, so I'm guessing it was a sufficiently long time ago.

18. What food are you dying to eat right now?: Anything that will make my throat better.

19. How many drugs have you done in the last three days?: Does medication count? The answer is still none.

20. How many rolls of film do you need to get developed?: None.

21. Favorite age you have been so far?: 8.

22. Your worst enemy?: Time?

23. What is your current desktop picture?: Kids in the Hall one made by me. Aww heck;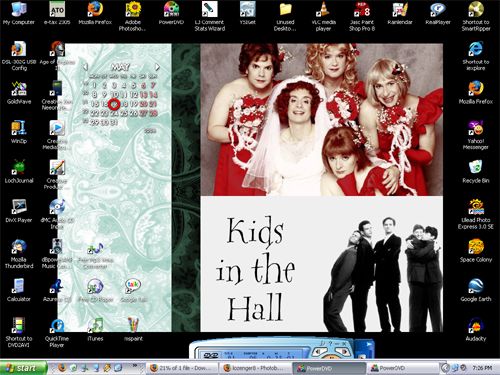 24. What was the last thing you said out loud to someone?: "One foot in the grave". (Voting on what to watch last night before actually going to bed.)

25. If you had to choose between a million bucks or to be able to fly, which would you do?: Million dollars. I'm terrified of heights.

26. Do you like someone?: Sure.

28. If the last person you spoke to was getting shot at, would you jump in front of the bullet for them?: Yes. I'm thick like that.

29. If you could punch one person in the face who's in your life right now, who would it be?: No-one, thankfully.

30. What is the closest object to your left foot?: Table leg.

31. What are you going to do now?: Play online some more.


Well, that was exciting.