Final day. Liz and the kids got me a box of chocolates, a bouquet of irises and TWO cards signed by almost everyone (a couple students were absent). Awww. It's not a complete goodbye, because I am going to visit in two weeks time - and I'm going to the Adelaide Gaol excursion and Graduation ceremony with the Year 7s :D

My platonic crush on Erica grew when she said "thank you kindly" today and we had a discussion about us hopefully having the same classes next year - oh and seeing each other on Monday. Yay. This practicum wouldn't have been nearly as good without someone to talk to. Also, Erica and I spent the whole day with our hair in pigtails *snerk*. Liz was amused, but Erica's supervising teacher had a look of disgust - quelle surprise.

What a positive experience this has been. I am so happy.

And, I leave you with two pictures -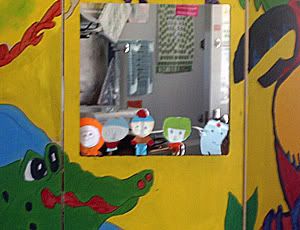 A Play Involving Puppets - yes that is most of the cast of South Park - as part of our "Getting Along" sessions. I was really impressed with the puppets everyone made, actually.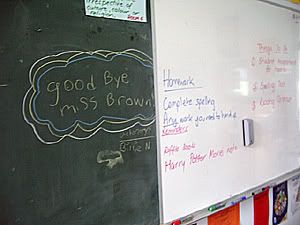 A goodbye note from one of the students, and the blue writing on the whiteboard is my writing (I need a lot more practice).



Well, that was fun.