I'm going to spend this time waxing lyrical on the first season of Slings and Arrows, a continuing Canadian series (the second season has either just aired on the Sundance channel or is going to) starring Paul Gross, Stephen Ouimette, Martha Burns, Rachel McAdams and Mark McKinney, plus a host of other wonderful actors.

I will try not to be too much of a fangirl, but I did literally spend the whole viewing experience emitting a series of high pitched squeaks of pure joy, so this may not be entirely possible.


"Alas, poor Yorick. I knew him... "

If I were to continue the quote most oft spoken, I would say "well", however, this is not correct. The real line is "Alas, poor Yorick. I knew him, Horatio - a fellow of infinite jest, of most excellent fancy." I think it's easy to see why "I knew him well" became so popular.

Slings and Arrows is a comedy which centres on the production of Shakespeare's Hamlet as the 'flagship' play of the (fictitious) New Burbage Shakespeare/Theatre Festival. The first season (the only I have seen at this current moment in time) is 6 episodes long, but they are 6 episodes of wonderful wonderfulness.

We open onto a scene of mass discontent during the preparation for the Festival opener A Midsummer Night's Dream. There is a very real feeling that Director Oliver Welles (Stephen Ouimette) is merely going through the paces - and the actress playing Titania, Ellen Fanshaw (Martha Burns) certainly does not like him at all. The upcoming production of Hamlet looks like it is going to be shaky, especially as there is a constant harkening back to a tragic performance given seven years ago, and they're bringing in a Hollywood actor who has never acted on stage before. We are also given a view of another theatre, a "theatre sans argent", the pet project of Geoffrey Tennant (Paul Gross), slightly mad, awfully passionate but about to be evicted.

What we have is a view of the theatre from backstage, where corporate sponsors, men and women in suits and revenues are more important than the art of drama itself. We also have the slowly unfolding story of three good friends who have fallen apart. Geoffrey was the brilliant yet tragic Hamlet of seven years previous, Ellen was his Ophelia as well as his real life lover, and Oliver the director - but now they do not speak to each other. In time it is revealed that Geoffrey suffered a mental breakdown on stage, in the middle of his third performance, and he is seen as somewhat of a loose cannon.

There is a lot of Shakespeare in Slings and Arrows, from characters quoting key passages of more than one of his plays, to characters paralleling Shakespearean types, to the tone and feel of the whole production. The humour is at times exceedingly dark, at times silly, at times wonderfully fun and optimistic. But the tragedy of the story is also very real, and the pain and the angst of the characters is not distant and difficult to relate to, sometimes it feels all too close for comfort.

Slings and Arrows is well written, with brilliant dialogue. Written by Bob Martin, Susan Coyne and Mark McKinney, there is as much left unsaid as there is said and this is what makes it powerful. But the lines so cleverly crafted could be nothing without the actors. And the actors are amazing. In fact, all three writers are actually in the cast and the whole cast is fantastic. There is not a weak or a shallow performance amongst them. I'll highlight the main characters, but let me tell you that the ensemble is solid, with lots of little details and nuanced performances.

Rachel McAdams, who is enjoying much success from films such as Mean Girls and The Notebook is an absolute delight as Kate. She lights up the screen. You feel her insecurities as apprentice and understudy. You see her ambition. You can tell she has potential. Luke Kirby as Hollywood star Jack Crew is equally attractive in this manner. Sabrina Grdevich as Claire, on the other hand, does a brilliant job of being a bad actress. She really is startlingly awful, which makes me think that Sabrina is actually startlingly good.

Jennifer Irwin as Holly Day is a fabulously modern-day Lady Macbeth. She is every facet of annoying and obnoxious, and pure evil. She rankly manipulates the essentially well-meaning but deeply ineffectual Richard (Mark McKinney) by using her feminine wiles and corporate brain. You hate her, and you're supposed to hate her. Perhaps that is the difference between her and Lady Macbeth - there is no "out, damn spot" only "I want to kill her." Mark McKinney (who is famous for being part of the Kids in the Hall troupe and Saturday Night Live) is equally fabulous as Richard, because even when he's being a complete moron you can't help but feel sympathy for him - or perhaps that's just me.

Oliver Welles is a complex character because so many characters hate him, yet you get the distinct feeling the audience is not supposed to. He is funny, and charming in his way, but ultimately extraordinarily flawed. The first episode revolves predominantly around Oliver and he shapes the entire of the next five episodes. Stephen Ouimette camps it up, but there are deeper moments which prove he is an actor with mettle.

Martha Burns is Paul Gross' wife in reality. Ordinarily this should make me dislike her, but my favourite actors always seem to be married to people who I grow to adore almost as much as them (Jamie Bamber & Kerry Norton, Alexis Denisof & Alyson Hannigan). Martha Burns is really fantastic as Ellen Fanshaw, an actress whom others would like to say is slightly past her prime but continues to prove she is not with a series of young handsome men she beds. She can be rude, conceited, cruel and theatrical but she can also be loyal, inspiring, understanding and humourous.

I reserve my final comments for Paul Gross. I thought I really liked Paul Gross before. In fact, I thought I couldn't possibly like him any more than I already did. Oh how wrong I was. I don't think I even realised how talented he was until I saw him as Geoffrey Tennant, because he just blows my mind. He quotes Shakespeare like nothing on earth. He's insanely neurotic. He's such a fallen hero. He's silly, and theatrical, and full of passion and brilliantly brilliant. See, I'm slipping very dangerously into fangirling because he was that good. And he and Martha have such on screen chemistry together! I loved watching them in scenes with each other. It helps that I absolutely adore the character of Geoffrey, who is such a heart-rendering construction of quirky and tragic genius. I could write whole essays about Geoffrey.

Not only do we have fantastic writing and brilliant acting, we also have really well shot scenes and lovely sets. There's good use of mise-en-scene and framing - and there is one particular place they shoot which is breathtakingly beautiful.

Alright then, true to form I have a series of pictures to share.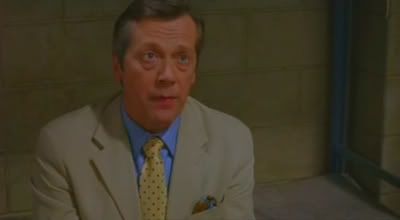 This is Oliver. He has many small witticisms. He likes eating after-dinner mints.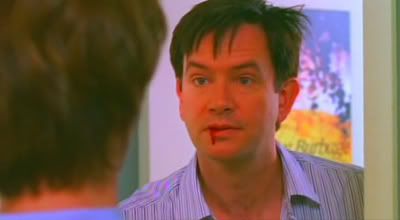 Richard. I can't help but like Richard, despite the fact he acts as an antagonist for much of the series.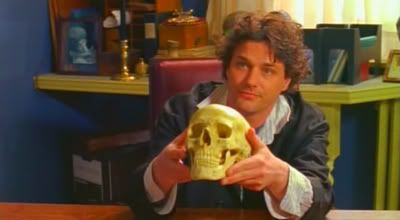 Geoffrey!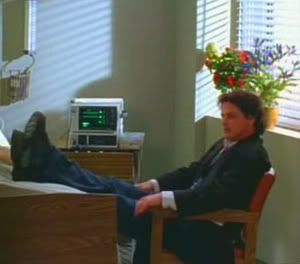 Geoffrey again. Notice he's wearing a long trench coat, a long over shirt, and a high necked t-shirt. He spends most of this series covered from head to toe - an interesting parallel with Benton Fraser (and not the only one).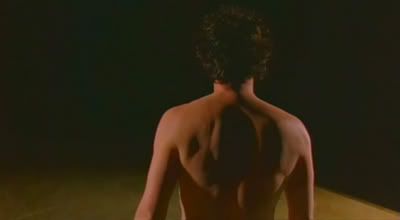 Luckily there are a few exceptions. In the next few seconds you see his naked arse too. I was half-tempted to use that picture instead. I don't know if it's a Paul Gross thing or a Canadian thing, or a 'my favourite actor' thing - but the willingness to get stark bollock naked in the name of entertainment amuses and pleases me greatly.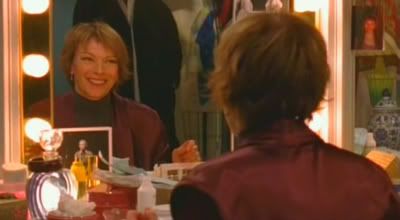 Ellen Fanshaw. This is her in one of her more congenial moments.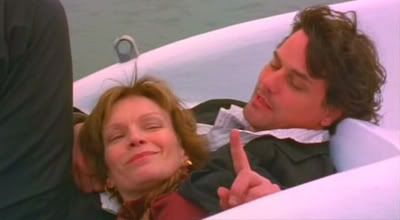 Geoffrey and Ellen together.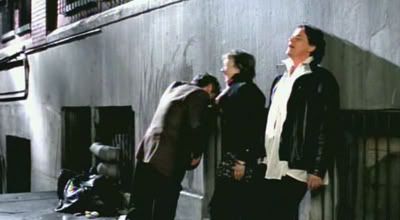 Geoffrey, Ellen and Oliver together - after the opening performance of Hamlet seven years previous.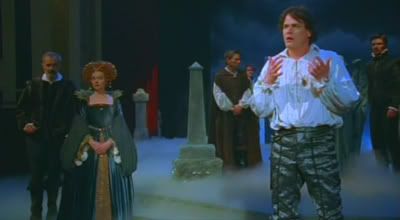 The tragic performance of Hamlet, just three sessions later. Geoffrey is at the beginning of his nervous breakdown.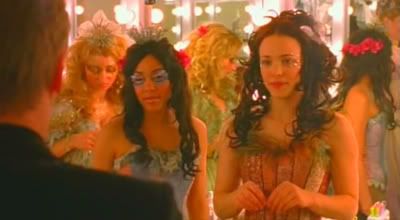 Rachel McAdams as Kate as the Third Faerie in A Midsummer Night's Dream. She is so very beautiful.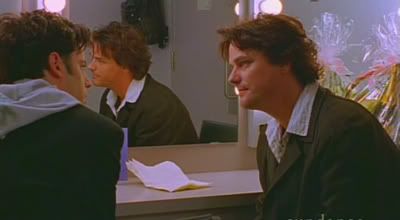 Geoffrey and Jack Crew.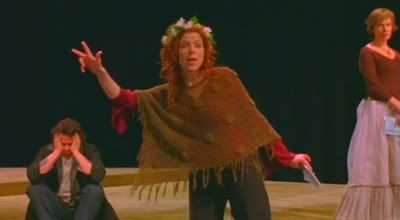 Claire is doing a truly appalling job as Ophelia. The worst thing is that she has no idea she can't act.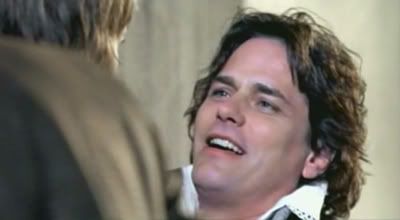 Oh Paul.


Well, that was really fun.