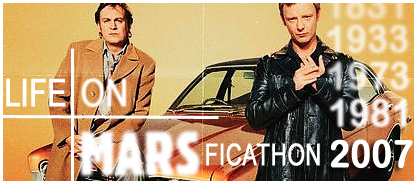 Life on Mars Ficathon 2007 Selections
Rankings are due by Saturday June 23rd. You have five days to make your selections. You will be notified if I have not received your rankings by the 24th. I'd like to say I wouldn't set Harry Woolf on you, but he has a mind of his own.
Assignments will be sent out by
Monday, June 25th.
Remember:
You will be ranking 3 participants for whom you would like to write.


You will be assigned 1 participant to write for once all rankings are in and sorted.


You will be able to choose whichever 1 of that participant's requests that you want to write. You will only be writing one fic.
(
Collapse
)