Originally the title was "the world's only Hugh Bonneville fan" but apparently there are 2 other people on LJ who list this talented character actor as one of their interests. Darn.
Let me take this moment to wax lyrical once more about someone I know I've had a themed CoS Signature about, and have mentioned times before (especially in connection to the role of Ludo Bagman, who I thought he'd be perfect as). Hugh. He is, without a doubt, one of the finer actors out there.
He's so good, in fact, that I don't know what his natural voice or accent is, and if it weren't for his sparkling blue eyes that light up the screen, I doubt I'd recognise him from role to role.
The other day they were advertising
Iris
on Channel 7. It was always "Judi Dench", "Kate Winslet" and "Jim Broadbent" in this award winning film. But what about Hugh, who played the younger version of Broadbent's character John Bayley, and was, indeed, in the film equally as much as Kate Winslet? He was not mentioned.
Then again, I shouldn't complain; since even he had the good sense of humour to joke about it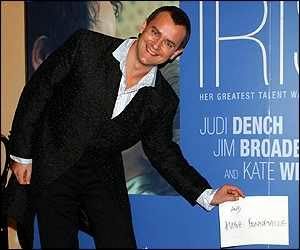 Anyway, his list of credits is rather long, but he was Bernie in
Notting Hill
, Grandcourt in
Daniel Deronda
, Ralph in
Tipping the Velvet
, Samuel Pepys in
Stage Beauty
and has in fact done copious amounts of Stage work.
He's one of the many actors who don't get noticed, yet really should - because he could act the socks off of most of the big named stars (and did, for the short time he was on screen with the other Hugh - Grant). I get the feeling he rather likes the anonymity though.